Justin Newcombe presents a garden you can put together in just 20 minutes from start to finish.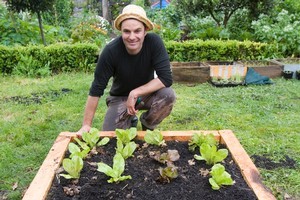 You haven't got time to put a decent garden together? Poppycock, I say. If you've got time to read this then you've got time to install a stylish, easy-to-maintain kitchen garden, and plant it too.
I have a plan for you which is based on no-dig gardening and means you can get growing in 20 minutes, start to finish.
No-dig gardening, as the name suggests, does not require you to dig over the soil. Instead, every time you plant you build the garden up another layer. You'd think your garden would end up looking like a haystack, but it all breaks down marvellously, into a fertile organic bun. The main principal behind this method is to leave the delicate soil layers undisturbed, the idea being that if the soil life is not constantly reorganising itself after being dug over, it will operate more efficiently, thus supplying your plants with even more goodies.
The other name for this method is sheet mulching, which is a kind of in-situ compost-making. By layering the materials to be composted, in sheets around 100mm thick, you build up your garden beds.
Start with laying cardboard directly on the ground to stop weeds and regrowth, then layer manure or kitchen scraps, lawn clippings or a mixture of both, followed by a layer of crushed dried leaves or straw, then some compost or soil or a mixture of both. You can also add in seaweed or recycle plant matter from the vege garden. Water each layer and repeat between each new planting. As well as building up new soil, the condition of the existing soil can improve markedly.
The system below is based on sheet mulching but I have taken the liberty of removing a heap of preparation and layers. All you need to get started is two sleepers, some cardboard and compost. You can extend your garden as you need to, in tidy sleeper squares, but don't forget to keep building up the beds. It's all about the soil, baby.
Step 1
Mow the lawn where you intend to put your garden.
Step 2
Get two sleepers, cut them in half and dress (tidy up the edges).
Step 3
Place sleepers on the ground in a square. Check with a large set square, then nail.
Step 4
Layer lawn clippings across the bottom of the planter directly on the ground. Soak with a hose.
Step 5
Place cardboard over the lawn clippings and soak.
Step 6
Fill up the rest of the planter with fresh compost or soil or a mixture of both.
Step 7
Each time you replant your box, place newspaper one or two sheets thick over the old bed, then add a fresh layer of compost or soil. Don't even bother pulling out all the old plants. Just cut them off at the base and go over the top.