Justin Newcombe continues his central city courtyard makeover with an elegantly simple espalier for fruit trees and an edible garden.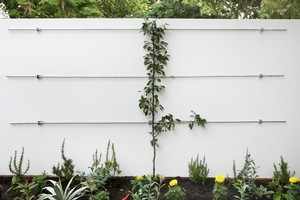 Project 5
Espalier
Designing a walled garden like this one is like packing a suitcase for a big trip. You need to cover all bases but at the same time everything needs to fit. The other thing about a garden this size is that every single available surface needs to be considered for its productive potential. One of the biggest problems for this new garden was how to include fruit trees without affecting the many other desirable aspects we'd created, as fruiting trees are usually big gregarious affairs .You can get miniature varieties but in my opinion the yield often makes them ineffectual, compared to their more robust big cousins.
A solution in walled gardens is to espalier or train the trees onto the wall. As well as its space saving quality, espalier is traditionally used for extending seasons in cooler climates. The wall behind the espaliered tree not only reflects heat, making the tree warmer during the day, it also releases stored heat to improve night time temperatures as well.
A wall also provides a shallow protection from frost. Because the tree is hard up against the wall this small frost shadow is often enough to stave of the initial frosts of late autumn, early winter or early spring.
Mostly now we look to espalier for its decorative qualities. You can espalier the tree into any pattern you wish. The more traditional designs follow a thatched trellis look or utilise simple straight lines but curvy wave shapes or random dot-to-dots can work too. I've gone for straight lines because of the box shape of the garden. I've used galvanised rods attached to the wall with brackets for a clean, modern look that is strong and practical. Using espalier has enabled a viable fruit crop without disturbing the other productive aspects of the garden. It doesn't look too bad either.
Step 1
Mark out the middle of the espalier onto the wall then mark out the height and spacing of each row. Make sure your lines are level and you line your espalier up with solid anchor points to drill and screw into. If you are using a solid wall like stone or brick this will probably not be a concern. However, as this wall is plastered fibre board over timber framing I need to make sure I attach the brackets into the framing.
Step 2
Mark out and drill holes for the brackets. Make sure you use the right drill bit. I used a wood bit and got away with it, but for masonry walls you should definitely use a masonry bit.
Step 3
Attach all the brackets then slide the galvanised rod into place. To fix the rod to the bracket I used Selley's steel knead-it, wedging it into the small gap between the rod and the bracket. It works like putty and sets like rock.
Step 4
Tie the tree to the rod using strong tie - hessian is best. You may need to bend the branches quite a lot so make sure you do your shaping while the branches are still young and supple.
So good you could eat it
A tightly styled urban garden is not the place you'd expect to find an edible storehouse. Mostly, if the productivity of such a garden is not sacrificed for aesthetics altogether it's reduced to a token gesture. In this case the homeowners genuinely wanted both urban styling and a meaningful edible selection. My challenge was to bring both needs together.
The planting decisions followed in the footsteps of the hard landscaping. Firstly I looked to see what plants I could recycle from the existing garden. It was scrappy but well-loved and pulling out such productive plants seemed a bit sad. We did save a truly champion rhubarb (it is rhubarb splitting time anyway) and initially rescued several productive strawberries. Serious work space issues saw the strawberries jettisoned.
The first task for the garden was to install a small hedge around the turf and path perimeter. Instead of box hedge I selected Chilean guava which is more rambling but with so much structure, a bit of shabby chic was well in order. Chilean guavas have tart, scarlet fruit which are high in pectin and good for making jelly. They're also good citrus companions, attracting predators for both aphid and white fly. That's good news for the two Tahiti lime I'd planted and the pear espaliered to the wall.
Behind the hedge I planted assorted berries and fruits including raspberries, blue berries and pepino. These all have quite different requirements and I separated them a bit using yellow marigold and Astelia silverspear. The astelia will be prominent all year but the marigolds will die back. Marigolds are the ultimate companion plant and I'm hoping they get replaced each season.
The other side of the garden has slightly more sun so I put in a raised bed here. Along the top of the plaster wall I planted cranberry which is a ground cover. This will grow along the wall providing an herbaceous boarder for the veggie garden situated in the planter. The planter backs onto a wall and I couldn't resist espaliering an apple here as well. I opted for Monty's Surprise which is a very good performer and is purported to have anti-cancer properties. The vege garden is easily big enough to provide this household with fresh salad greens so I introduced a goji berry which is relatively new onto the market plus I replanted the rhubarb. It is reduced to a stump now, but will soon return to full production. I left the rest of the planter for the owners to sow their new kitchen garden.
At the far end of the garden , next to the tiger turf screen, I wanted bold shapes and strong colour to balance out the big pot I made. Canna lilies are perfect and provide high quality bio-mass to compost with. Lastly, I recycled some mondo grass. I've been using this stuff my whole career and because of its reliability and high performance, the list of uses just keeps on growing.