One for the dads out there - Justin Newcombe constructs the billy cart of his childhood dreams.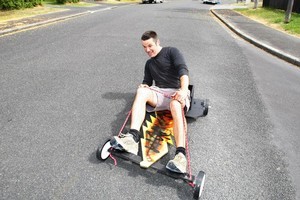 A project I've been asked to do often is a trolley, otherwise known as a billy cart or a box cart. This request always comes from fathers, followed by a sorry tale involving speed, skin and asphalt, so I looked around at some carefully crafted models. Most were lovingly pieced together, sanded and varnished; some had little flags, comfy seats and reflectors. This sort of thing is certainly a step up from my experience. The one I remember was perilous - made out of a nail box and a fence paling with a bit of wire to steer with and some slightly oval wheels. I was advised to wear jandals if I wanted the option of stopping. We went frighteningly fast and actually took it quite seriously. Now that I'm an adult and fully in control of my faculties, I'm going to build the trolley of my childhood dreams. I want cool, I want fast and I want attitude. That's why I've gone for a lightning-thunder theme with a slightly anti-social finish. Safety is obviously a concern so I recommend you attach a handbrake to your one and don't go charging down Mt Eden on a test ride. I've done the research and there's a cattle stop at the bottom.
Step 1
Cut out the basic shape. I used plywood so I could get the thunderbolt shape. My one is 1200mm long. Sand and paint (I used spray paint for mine).
Step 2
The rear trolley block is 700mm wide. This is a bit of overkill but I really like the look. I used rope clamps to attach a threaded rod, which acts as an axle, to the block. Because the rear block is so wide I used four clamps to attach the axle instead of two.
Step 3
Glue and screw the wheel block and the centreboard to the plywood. The centreboard runs from front to the back and is usually wider than the one I've used, but I didn't want to compromise the thunderbolt look so I went as skinny as possible.
Step 4
Attach the front block using a central bolt. This will be used for steering. It's easier to attach the front axle rod after you have attached the front block to the centre board.
Step 5
Attach the wheels and trim off any extra threaded rod. Make sure you lubricate the rod before you attach the screws otherwise it can be quite tough going.
Step 6
Glue and screw the front, back and sides of the seating area together, paint and screw to the trolley.
Step 7
Drill two holes on either side of the front axle and attach the rope.
Step 8
The brake is a piece of 50x50mm timber attached to the side of the cart that can be pulled back to rub on the rear wheel.
DIY workshops at your local Bunnings warehouse this weekend:
* Saturday 10am: Santa's workshop - kids' DIY; 11am: How to safely create a Christmas lighting display; 1pm: How to build a fence.
* Sunday 10am: Santa's workshop - kids' DIY; 11am: How to build a sand box; 1pm: How to install a garden irrigation system.