Justin Newcombe gives a how-to guide to building your own bamboo screen.
Step 1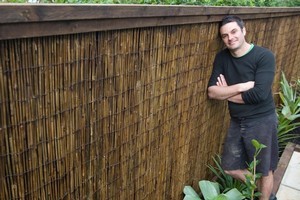 Set up a stringline, which runs a foot or so past where the fence will start and finish. This gives a flat plane against which to set the posts.
Step 2
Dig the holes for the end two posts. I used 2.4m posts and my fence is 1.8m high, so the post holes were 600mm deep. Use extra strength, quick-set concrete to set the posts - it's easy to mix and handle.
Step 3
Set a stringline at the top of the end two posts to help you set the rest of the posts at the correct height. I used a stringline level to make sure the top of the fence was even.
Step 4
Mark out and dig the holes for the rest of the posts. Place each post in the ground and set at the right height.
If you have a helper and use quick set concrete you can set your posts without bracing them, but if you are working alone it's best to brace them first.
Step 5
Once the concrete has set, mark out and nail up the rails. I fixed these to the front of the posts instead of setting them inside each post. This meant a lot less time was spent cutting and nailing.
A quick grip clamp is handy if you're building your fence alone.
Step 6
The bamboo screen is quite thin so before I attached it I stapled weed mat to the posts and rails to use as a background.
Step 7
Roll out the bamboo screen and nail it up with fencing staples.
Use a level to make sure that the bamboo canes are reasonably straight.
Step 8
Nail a capping along the top of the fence (I used 50 x 100mm pine) and then frame the screen with a small profile trim (I used 20 x 50mm) pine.
Step 9
Stain all the timber and the bamboo twice.