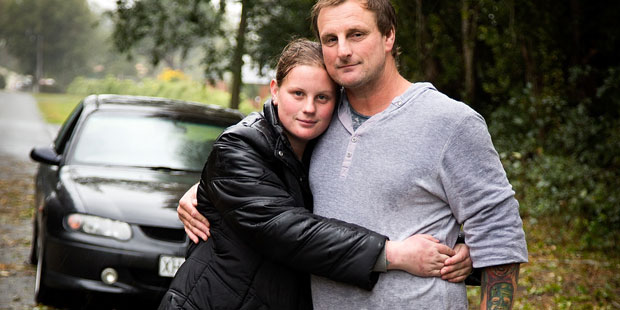 Send your weather related stories, photos or video here.
With a downed tree blocking their way, and live power lines sparking off the rain-lashed roof and bonnet, Bruce McDonald urged his teenage daughter in the passenger seat to remain calm.
Trapped in their car, the only thing they could do was call 111, and sit tight as this morning's storm raged across Canterbury.
Mr McDonald, 42, reached for the plastic-coated ignition key and switched off the car, bracing for any shocks.
***
Read more: Cook Strait ferry services suspended by storm
***
The forklift operator and his 17-year-old daughter Michaela sat while the live wires arced in three places, leaving holes as big as 50 cent pieces in the car's steel outer shell.
After 45 minutes, local volunteer firefighters had secured the scene at Styx on the northern outskirts of Christchurch and Orion engineers switched off the power.
They were finally free.
"It was pretty scary all right, mate," Mr McDonald said this afternoon. "It's not something I'd like to do again in a hurry."
They had just left the Pascoe Park campground, where they are staying after selling their Christchurch home, when a falling poplar hit their Holden VT Commodore, bringing down power lines that draped over the front of the car.
"I had half my window down and just noticed the power lines across the car, arcing away," Mr McDonald said.
"Michaela was pretty shaken up with to start with. We just tried to maintain a level of calmness. That was the key factor, I suppose.
"It was just a matter of just putting the brain into gear, forgetting about what was going on, and remembering I was on four rubber tyres, so to just remember the basic rules of electricity really."
Thousands of people were affected by the storm as outhwest gales, gusting up to 140km/h, lifted roofs, blew out house windows and brought down trees and power lines in Canterbury.
***
View a WeatherWatch video explaining the wild weather here:

***
Further north, inter-island ferries were suspended after winds whipped up 5-metre swells in the Cook Strait, with higher seas expected.
At 3.30pm, power remained out to about 2500 Orion customers in Canterbury, down from 7000 earlier.
"We advise those customers that are presently without power to prepare to be without electricity overnight," says Orion chief executive, Rob Jamieson.
"The high winds, which are forecast to continue until tomorrow morning, are unfortunately hampering our repair efforts."
The MetService has issued alerts for severe southwest gales for the east coast from Banks Peninsula to Hawke's Bay and heavy rain for Christchurch and Southern Wairarapa. Conditions are expected to east tomorrow afternoon.
Brutal weather prevented a rescue helicopter from being deployed in north Canterbury tonight.
Southern fire communications shift manager Andrew Norris said about 8pm that firefighters from the Culverden station were trying to extricate a patient trapped in a collision between a truck and car on State Highway 7 near Lewis Pass.
"The weather's so bad up there the helicopter can't fly."
Mr Norris said the Fire Service received more than 30 weather-related calls between 6.30pm and 8pm.
"We've gone from wind-related jobs to water-related jobs. We've got leaking buildings - either through the roof, or from road flooding and stuff like that.
"Often there's not a lot that we can do because it's related to drainage.
"The weather forecast indicated that between 8pm and 11pm we should expect really heavy rain - whether it's going to get any heavier than it currently is, I don't know."
Christchurch City Council was coordinating efforts to help residents in low-lying areas affected by flooding.
There were plans to close some roads in Mairehau and Richmond, south of the city centre, to prevent wash from vehicles entering houses.
Sandbags had been deployed to high-risk properties that were likely to be most affected. Surface flooding was an issue and drivers were asked to take care and drive slow.
Wellington police advised motorists to drive with caution on coastal roads amid reports of rocks and debris being washed up near Moa Point in Wellington and on Marine Parade near Eastbourne.
- APNZ