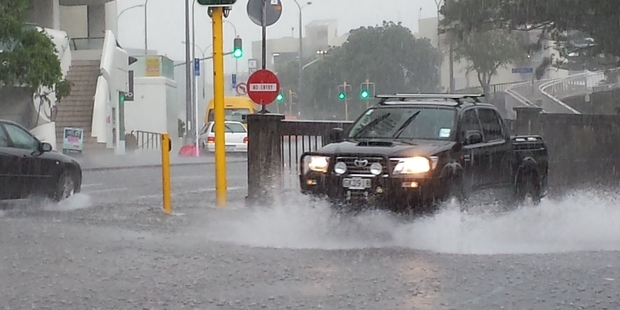 Auckland was lashed with heavy rain yesterday which caused surface flooding in several locations throughout the city. Heavy downpours at the corner of Customs and Albert streets (above) caused havoc for afternoon commuters.
MetService spokesman Dan Corbett said the low brought heavy downpours to Auckland, Hamilton, Tauranga and Te Puke, and from Taupo to the Gisborne ranges.
"Think of it like a big octopus, flailing its arms around like it's really mad, and the centre of its head would be sitting just north and east of Whangaparaoa.And it's not over yet.
"We have another day of it tomorrow and then it's getting the hint and moving off to the northeast of New Zealand." The heavy rain and thunderstorms should ease by the weekend.