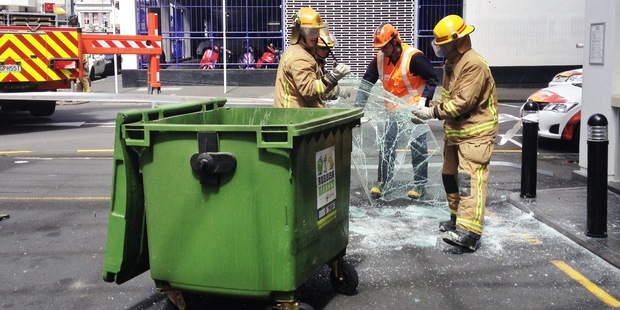 A state of emergency has been declared for the Whanganui district due to an increasing threat of flooding from rising rivers.
Some residents are being evacuated, and the council warned properties and roads are in danger of flooding.
Heavy rain continued to lash the region today, and the Whanganui River is predicted to reach 15.5 metres at Pipiriki, while the swollen waters are expected to spill over the stopbanks at Kowhai Park around 7pm.
Residents of Anzac Parade properties between Mt View Road and Jones Street are being told to evacuate, while other properties in Putiki are also being evacuated.
A welfare centre has been set up at St Paul's Hall, Cooks Street.
The Matarawa Stream, which runs through Wanganui East, is also rising rapidly and raw sewage has entered the stream, the district council said. It has begun sandbagging around the Matarawa Stream bridge.
The Whangaehu, Mangawhero and Waitotara rivers are also rising, with water expected to be across SH3 at Whangaehu by 8pm.
A number of slips and surface flooding have affected roads in the area, and part of Anzac Parade has been closed.
The region was badly hit with power outages during last night's storm, and residents in Greytown were forced to go for a period without water this morning, he said. The area was running on reserve water supplies, but without electricity the emergency bores could not work.
"We got the emergency bores going just as we were running out, so we'd used all our reserves but we still had some water left in the pipes,'' Mr Allingham said.
Motorists in the Ruapehu area have been warned to stay inside and avoid all unnecessary travel after heavy rain caused significant damage to roads.
Stormy weather, which saw the Turoa and Whakapapa ski fields and local schools close today, has also caused a number of flooding incidents.
Residents in Ohakune were evacuated from the Mangawhero River Terrace area earlier today as the river continued to rise.
A welfare centre was established at the Ohakune Primary School hall for a period.
Margaret Hawthorne, Ruapehu District Council (RDC) alternate Civil Defence controller, tonight advised Ruapehu residents to avoid all unnecessary travel.
"We already have significant damage to Ruapehu roads with flooding, fallen trees and massive slips across the district,'' she said.
"At this time RDC has 24 separate road closed or dangerous road situations listed on our website, and there are bound to be other situations we are as yet unaware of.''
She said despite the weather easing, another storm front was forecast overnight, bringing showers and strong westerly winds.
"Even if the weather moderates, with the damage to the road network people should stay home and keep warm and dry,'' Ms Hawthorne said.
Meanwhile, wild winds are have been lashing Auckland city today, with shattered windows, lifted roofs and runaway trampolines.
The wind caused flight disruptions at Auckland Airport in the late morning and early afternoon, with both domestic jet and Air New Zealand Link services delayed and several flights diverted to alternative ports.
One international service NZ700 from Sydney was also diverted, to Wellington, with passengers expected to arrive in Auckland about 4.30pm.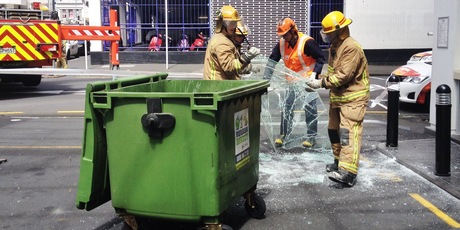 A gust blew out glass panels from an overhead covering at a central city hotel.
Three glass panels were shattered by an upward gust of wind at the Rydges Hotel on Federal Street.
No one was injured in the incident which took place before midday.
The Fire Service was called to make it safe, smashing out and removing the damaged panes.
Sally Stoikos, who was visiting Auckland with her family from Melbourne, said they saw the firefighters using hammers and axes to remove the broken glass.
Pedestrians in the central city were seen clinging to poles as the wind hit.
Power has been knocked out in Whitford, near Flatbush, and there are reports the roof on the Countdown in Papkura on Great South Rd is lifting.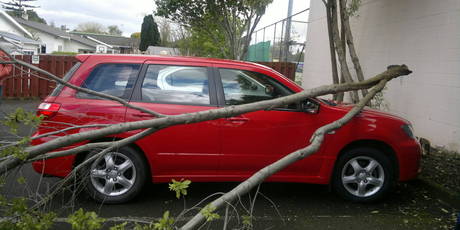 Trees have fallen on a houses in Avondale and bricks have been ripped off a two-storey house in Parnell.
Beachhaven resident Jackie Gray said a trampoline from across the street flew over the fence and into her front yard.
"It would have come inside. It was just hanging on the bush, thank God my hedge was big enough.
"The neighbour and police came, and we just held it down.''
The trampoline was now being weighted down by ``bits of concrete''. It was also tied down, she said.
"I was scared. Bits of metal - the legs were metal - and all over the road. It basically would have come through the window.
Mrs Gray said once the Fire Service arrived, they helped secure her neighbour's garage roof in place which had been lifting off in the wind.
Next door, a tree about 8m tall fell onto the roof of a home.
Mrs Gray husband Stu, a local drainlayer, was helping property owner Julie Chessum clean up.
"It could have been a lot worse,'' he said. "The local community constable came down and he actually took the main parts down and we followed up quickly.''
Mrs Chessum said her tenant, who wasn't home at the time, would be surprised to have "a lot more light" streaming into her home.
"I'm just glad no one was hurt and my house in not hurt either.''
Power lines have snapped on Mangere's Tennessee Ave.
Mangere Fire Station officer Roy Harris said a "weather bomb or wind bomb'' had caused the lines to snap.
"We've got multiple power lines down through here.
"A really big gust of wind has just broken [the lines].
"Just on the way as we were coming over here there were calls to fences down, someone was looking after a roof off, trampolines have been flying around.
"It's just really big gusts of wind that just suddenly increase that force on things until it bursts.''
Mr Harris said some houses had lost power as a result of the downed lines.
"We're still waiting for the power authority to come and isolate the power and make it safe.''
The downed lines had been arcing but that had ceased after the relays tripped, he said.
Fullers said that Northcote Point was now closed for ferry services until further notice.
WeatherWatch.co.nz said winds were reaching gale force at times with gusts to 90km/h.
Winds of this speed are mostly below damaging threshold but wind tunnels such as in the CBD between buildings, and parts of exposed suburbs could see minor damage, especially branches breaking and powerlines being broken.
The warm wind direction had already pushed Auckland's high up to 21C, well above what both main forecasters were predicting.
"This is the rough weather that was expected to arrive around dawn, but is running a few hours late'' said head weather analyst Philip Duncan.
"This afternoon in Auckland winds will change from gale nor'westers to blustery sou'westers''.
The worst of the winds was at 11.30am, with gale force northerlies gusting near 100km/h. By 12pm winds were just below gale threshold.
Around 3000 homes are without power in the central and lower North Island as stormy weather continues to hamper efforts to fix electricity lines.
Nearly 20,000 properties in Wairarapa, Manawatu, Wanganui and South Taranaki have had power cuts since severe weather hit the country yesterday morning.
Connections had been restored to all but 3000 customers, Powerco said.
More than 150 field staff had been sent out to restore electricity but difficult conditions had hindered work.
Powerco network operations manager Phil Marsh said new faults were being found as repairs were being made.
He blamed trees for causing most of the damage.
"Many of the power cuts could have been avoided if people had contacted suitably qualified tree trimmers to have their trees cut or trimmed before they caused a problem,'' he said.
Mr Marsh said "good progress'' had been made in restoring power, with the majority of south Taranaki properties expected to be reconnected by tonight.
However, he said areas which suffered the most damage, such as Wairarapa, may still be without electricity for a second night.
- additional reporting: Teuila Fuatai, Anna Leask, Amelia Wade