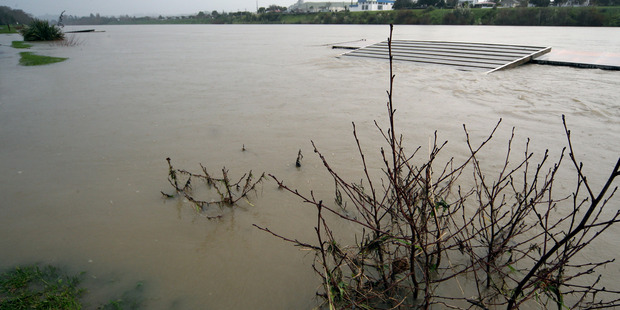 Heavy rain is set to lash Auckland this afternoon, prompting a warning from authorities, while Wanganui emergency services are on alert over swollen rivers
Wanganui emergency manager Max Benseman said nearly 50mm of rain fell at Pipiriki overnight on Wednesday and into yesterday, spiking the Whanganui River level from a low of 1.4m to 7.5m in 24 hours.
It's the highest the Whanganui River has been all year.
Mr Benseman said the river peak was due to arrive in the Wanganui urban area in the early hours of tomorrow morning. The high river was not expected to cause any problems, but parts of Kowhai Park may be closed tomorrow.
"The Kowhai Park playground will be open unless the stop bank is breached. The parts of the park that may be temporarily closed are the road along the riverbank and the bridge across the Matarawa Stream,'' Mr Benseman said.
The river had been very low before the rain started, he said.
Further north, Civil Defence has issued an advisory, saying heavy rainfall is expected in the eight hours from noon across the Auckland region.
The bulk of the downpour is expected to hit between noon and 6pm, with as much as 35mm of rain per hour likely to fall in some areas. MetService also said wind gusts could reach up to 90km/h.
Residents are being warned of the possibility of surface flooding and rapidly rising rivers and streams.
Motorists have also been urged to take care, with surface water and slips making driving conditions difficult.
Civil Defence has issued a number of safety tips, which can be found on its website.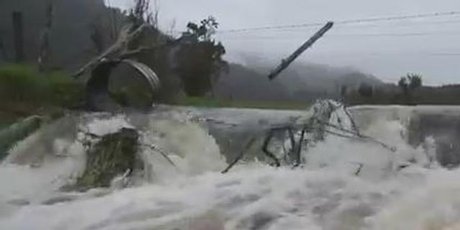 Further south, Christchurch residents could be without power for up to four more days following the storm which is sweeping the country.
Canterbury lines company Orion says progress to restore the electricity supply continues this morning.
Send your weather related stories, photos or video here.
Power remains out to 11,000 Orion customers after strong winds on Tuesday night affected the supply across the electricity distribution network.
Orion chief executive Rob Jamieson said today areas without power were predominantly in the rural region west of Christchurch.
"Our crews are already out working, and we hope to continue to make good progress today in restoring power.
"Overnight we managed to restore power to another 4000 customers. Our staff and contractors did a great job yesterday in restoring power to 60 per cent of the 28,000 customers who lost power on Tuesday night."
Crews were working as quickly as they safely could, Mr Jamieson said.
"It is possible that some customers could be without power for up to four more days.
"However, until access allows us to determine the full extent of the repairs required we're unable to give more precise details on this."
Anyone who sees a fallen power line, or a tree on a power line, is advised to stay well clear and call Orion immediately on 0800 363 9898.
WELLINGTON FLIGHTS GET BACK IN THE AIR
Storm-affected flights in and out of Wellington Airport are resuming, with the backlog of passengers diminishing.
Air New Zealand cancelled 23 flights last night as high winds battered the capital, stopping planes flying in and out of the city.
An Air NZ spokesman said there had been a flow on effect from the weather disruption but all affected passengers would be accommodated on flights today.
Jetstar also had flight cancellations last night but, with flights resuming this morning, had cleared its backlog.
One stranded passenger, Sharlene Boshoff, had just arrived in Wellington from South Africa on a holiday when the spring storm hit.
"It was very exciting, the first storm. We don't have that in South Africa ... it was more exciting than inconvenient.''
She and her daughter stayed with family in Paraparaumu after their flight was cancelled.
"It actually wasn't as bad as we expected ... It has been a wonderful experience, storm and all.''
They were due to continue their holiday to Hamilton on another flight today.
Another passenger Lisa Morris said the storm had forced her to fly all "over the country'' for the past few days in an attempt to get home to her husband in Balclutha.
She had flown into Auckland earlier this week from Los Angeles and had dealt with delays and cancellations ever since.
She and her friend were booked on a flight to Christchurch, which ended up turning back, before getting on a flight to Wellington.
"I'm still waiting ... I just want to go home.''
Ms Morris said she was due to return to work tomorrow, but hoped for a few days off to recover.
Air NZ is still advising passengers to check the Air New Zealand website for updated schedule information, or to call the contact centre.
The "back edge'' of the front, that brought savage winds and heavy rain to the South Island and lower North Island, was now in Manawatu and over the Central Plateau.
Rain had just reached Auckland and extended west to Taranaki.
"There still are some stronger winds ... across some eastern areas - Gisborne and Hawkes Bay.
"But those are a far cry from what they were through the night.''
Winds in Wellington had eased to about half the strength they were yesterday, Mr Corbett said.
Rain warnings were in place for Taihape through to Taupo, he said.
"Also the Eastern Bay of Plenty - they'll get some heavy rain through later this morning and the afternoon.''
Further south in Canterbury, the weather had calmed and was bright and sunny, Mr Corbett said.
The weather would continue to improve, and by Sunday and Monday the stormy conditions should clear for most of the country.
"Those days look good, with dry weather for much of the country.''
FARMERS CALL FOR GENERATORS
Canterbury farmers have issued a rallying call for generators, as power cuts halt milking and leave stock without access to water.
Federated Farmers' adverse events spokeswoman Katie Milne said farmers without power needed generators to milk cows and pump drinking water to stock.
"We definitely still at this stage are looking for generators."
Power cuts were estimated to last up to five days in some cases, Ms Milne said. "At the moment there's still plenty of need."
When the storm tore through Canterbury on Tuesday it demolished sheds, tipped over irrigators and silos and brought trees down over power lines.
Federated Farmers has been working with the Rural Support Trust in the South Island to coordinate a response to the storm.
Ms Milne said they were particularly concerned about animal welfare, as cows are coming up to their peak milk production.
Power outages would also affect dairy companies' collection times from farms, she said.
Federated Farmers had activated a helpline on 0800 327 646 for farmers to communicate who had access to generators and who needed them.
NORTH CANTERBURY RESIDENTS ASKED TO CONSERVE WATER
Waimakariri District Council is still asking some areas to conserve water as power cuts continue to cause issues with pump stations.
North Canterbury was one of the worst hit in yesterday's extreme gusts. There was widespread damage across the region.
Manager of Utilities and Roading Gerard Cleary said the power cuts were still affecting some of their pump stations, so they were asking people in Woodend, Oxford and Waikuku to conserve water.
He said that helps keep the pressure of the sewage system.
SNOW ON MILFORD ROAD
The Milford road in Fiordland is like to have 5 to 10 centimetres of snow settle on it above 700 metres this morning. There will be lighter falls to 400 metres.
Snow should ease by late morning, but light snow showers are possible through tomorrow afternoon before clearing tomorrow evening.
- APNZ