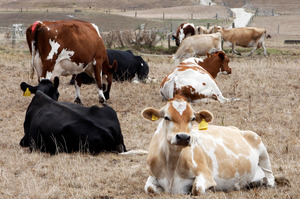 This year's drought could end up costing Northland dairy farmers about $500 million, Northland Rural Support Trust says.
For months, the region has been gripped by its worst drought in 60 years - and it won't be officially lifted until September.
Trust member Julie Jonker said recent rain had been welcomed by the region's farmers, but more was needed before the hardship ends. Heavy rain is forecast for Northland today but this could also wash off any recent fertilisers farmers may have put on their land.
She said the estimated cost of the drought to dairy farmers alone in Northland was $500 million, and that would be even higher once costs of associated business were taken into account.
"And that's just dairy farmers in Northland. It's estimated the 2010 drought cost Northland dairy farmers about $750 million, and while this one won't reach that amount, it's still going to be huge," she said. "The financial impact is still there and it doesn't just go away because it's been raining.
Farmers are amazingly resilient people, but this is hitting some of them very hard."
Ms Jonker was aware of many farmers looking for grazing land to put their stock on while their own pastures recovered.
"The good thing is that there's been some good rain and warmth and sunshine, which is great for grass growth. Palm kernel expeller is available for supplementary feed, but there's a real shortage of good quality balage - which is needed for its fibre - and what is out there is quite expensive," she said.
"The advice [the trust] is giving to farmers is make sure you are doing your cash flow projections and finances and if you need assistance give us a call.
"The biggest thing for farmers is the ongoing financial stress, with some farmers still struggling with the financial impact of the 2010 drought.
"A lot of farmers are just getting stuck in and coping with it, but it's a major for the industry and a big impact on the region's economy. The Marsden Pt oil refinery is Northland's biggest earner, but it's not as big an employer as the farming industry."
Ms Jonker said she had heard anecdotally that several farms had been sold by banks in Northland in recent weeks because of the effects of the drought, but she could not confirm this at this stage.
For more articles from this region, go to Northern Advocate