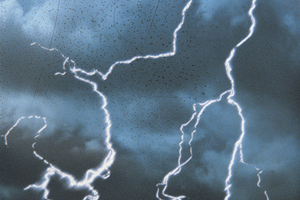 West Coasters hit by a deluge of heavy rain and thunderstorms can expect little relief in the coming weeks.
The region has been pounded by a series of severe fronts since the beginning of the year and the weather pattern is likely to continue, said Weatherwatch.co.nz head weather analyst Philip Duncan.
Rain and 5000-6000 lightning strikes were recorded in the area yesterday.
Although conditions would improve in the coming weeks, the region would continue to be hit by bad weather.
"Their weather pattern that they've got they're pretty much stuck in. At the moment it looks like it might linger for the rest of the month," said Mr Duncan.
Sunny days in the region would increase to a maximum of three at a time, with intermittent rainfall between.
"I think we will see plenty of cloud still but the days of rain are going to start to dry up a wee bit as we get into the second half of January."
The rest of the country would continue to experience spring-like weather, with changeable conditions, as it had been for the past few weeks.
This was caused by big storms in the Southern Ocean.
Sweltering temperatures experienced in Auckland at the weekend will ease off this week, said Mr Duncan.
"We've got a refreshing change is coming this week. The wind flow change is a little bit more westerly this week and away from these warm northerlies."
Highs are expected to drop from the upper to lower 20s.
- APNZ