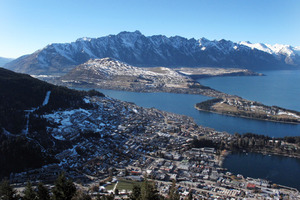 Queenstown has beaten out the Coromandel as New Zealanders' favourite holiday spot at home and Australia is our preferred overseas destination.
Cheaper domestic air travel has pulled the southern town, famed for its stunning position on the shores of Lake Wakatipu, adventure sports and skiing, within easier reach of Kiwi holiday-makers.
A Herald-DigiPoll survey asked New Zealanders their preferred holiday destinations.
Queenstown was the preferred domestic destination of 25.7 per cent of those polled, followed by Coromandel at 22.3 per cent, Bay of Islands at 20.7 per cent, and Nelson at 13 per cent. The Coromandel had topped the same poll last summer.
Destination Queenstown chief executive Graham Budd said the town's pricey reputation had greatly diminished over the past two years.
That was partly due to the falling price of airfares from Auckland, Wellington and Christchurch.
This month Queenstown Airport will see a 17 per cent increase in inbound flights compared with January last year.
Air New Zealand has increased its capacity on direct services between Auckland and Queenstown by 32 per cent; up to five services on some days.
But Mr Budd said visitors also found that Queenstown's range of accommodation and activities were very affordable.
It was a year-round destination, and marketing had focused on reinforcing its range of activities.
"While skiing and adventure - bungy and jetboating - is well understood, we have also focused on things like walking, biking, golf and wine and dining experiences."
The town of 20,000 hosted about two million visitors a year, he said, with about 35-40 per cent of that number domestic tourists.
The past nine months had seen a recovery in visitor numbers, with domestic numbers increasing at the fastest rate.
Yesterday, Thames-Coromandel mayor Glenn Leach said the district was humming and businesses were reporting great turnover.
"I'd always expect there'd be a bit of a battle between us and Queenstown. But nobody can tell me that the numbers go to Queenstown that come here out of Auckland.
"There are cars everywhere, people and children and the beach is full ... unbelievably great. Let's hope the weather keeps going."
Internationally, Australia came top with 27.4 per cent, followed by the Pacific Islands at 23.5 per cent, London at 20.8 per cent, with 12.4 per cent preferring Asian destinations.
Brent Thomas, retail director for House of Travel, said while Australia had long been No 1 for Kiwis, the type of holiday was changing.
"New Zealanders really see it as a long domestic flight. We see more and more Kiwis going there for long weekends, to take in some sort of cultural or sporting activity."
Mr Thomas said falling airfares had seen more New Zealanders, particularly the young, travel to Asian countries such as Thailand, and tipped Hawaii to be popular this year.
"Hawaiian Air is starting off at the end of the first quarter in 2013, and Air New Zealand has responded with increased capacity up there as well.
"Pricing will be really good because of the competitive nature ... we're predicting that's going to be a massive market for New Zealanders."