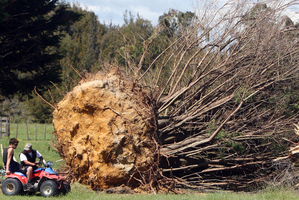 A massive clean-up is under way at a Hamurana property near Rotorua struck by a powerful tornado last week.
The Farmhouse horse trekking business in Sunnex Rd was hit by a twister on Thursday afternoon, lifting manager Chris Heywood, his truck and animals into the air.
When The Daily Post toured the 160-hectare farm yesterday hundreds of huge trees lay on their sides, leaving holes in the ground up to two metres deep. Friends and neighbours with tractors and chainsaws had started on the smaller trees but Mr Heywood reckons it could take years to replace the destroyed fences and clear the larger trees.
"I'm not sure how we are going to move them," said Mr Heywood. "Some weigh six to eight tonnes. They kept the dirt around the roots."
About 20 horses in the path of the tornado were believed to have taken shelter under the fallen trees, resulting in welts and cuts to about 10 of them. Mr Heywood said three calves had been killed and another eight injured.
The business' accommodation block, which can house 100 guests, had flooded and all horse treks had been cancelled until further notice - at one of the busiest times of the year.
Mr Heywood said clearing the tracks would be the first priority so the treks could begin again, which he hoped would be in about two weeks.
Mr Heywood, who was thrown 60m by the twister, said he was still feeling the effects and was unable to hear out of one ear. After refusing to go to hospital on Thursday, he would be getting checked out today, he said.
Mr Heywood's wife, Wendy Branch, said it had been an emotional and sleepless few days, not helped by another thunderstorm on Saturday night.
"The sky went black. It freaked me out," she said. "In your mind you know it's not going to happen again but in your heart you're [terrified]."
Ms Branch said they owed a big thank you to neighbours, firefighters and a policeman who stayed with her and their children on Thursday night, when they were unable to get back to the farm. She was also grateful to vets from VETPlus who made their way to the farm on Thursday afternoon, despite the road being blocked by fallen trees. "They were here like an army, trying to help everybody."
Mr Heywood said they were still figuring out the best way to move the trees, although he was considering leaving some in place.
"At least it will give them [the guides] something to talk about to visitors when they're on treks."
After last week's heavy weather, MetService is forecasting mainly fine days with highs up to 23C for Rotorua this week.
For more articles from this region, go to Rotorua Daily Post