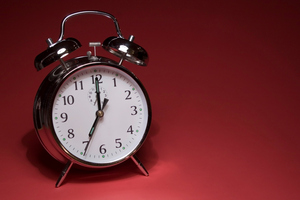 New Zealanders will lose an hour's sleep on Sunday but despite the start of daylight saving, warmer weather appears to be a long way off.
The clocks go forward an hour at 2am on Sunday, 30 September, to become 3am.
The extra hour of daylight in the evenings will run until April 7 next year.
The Department of Internal Affairs advised people to advance their clocks by one hour before going to bed on Saturday, September 29.
The longer, lighter evenings starting this weekend usually signal summer isn't far away, but the weather won't follow for some time, according to WeatherWatch.co.nz. October is expected to bring windy, cool weather.
"Spring is about hints of summer with regular reminders of winter. This next cool to cold change will remind us the hottest time of the year is still four or five months away," said head weather analyst Philip Duncan.
A cold front with rain and cold southerlies will move across the country and up the east coast early next week.
On Monday, Southland and Otago will have highs of 8-12 degrees and possible snow to 300 or 400 metres. In Auckland temperatures will drop from recent highs of around 17 or 18 degrees to an expected 15 next Tuesday.
- APNZ