This year's summer is unlikely to be a repeat of last year's big wet, say forecasters.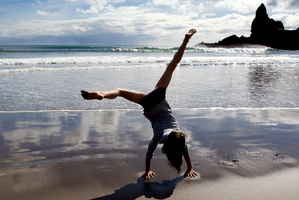 Sunnies will replace brollies later this year as weather forecasters predict a mercifully typical Kiwi summer unlike last year's washout.
La Nina and other dominant weather patterns will stay away this summer and New Zealand can expect a "bit of everything" and average temperatures.
Niwa climate scientist Dr Brett Mullan said it was a "good bet" last summer's persistent wet would not be repeated.
The borderline El Nino weather conditions in the tropical Pacific appeared to have weakened further over the past month, he said.
And with no repeat of La Nina conditions - responsible for last summer's rain - there could be no dominant weather pattern over the season.
"If we don't have something like an El Nino or La Nina, we don't get the same persistence over the whole summer or longer.
"It will be a bit more changeable," Dr Mullan said. "But it doesn't mean it can't be windy for a month or two, or dry, or whatever. Because you can get events that persist for shorter periods."
WeatherWatch analyst Philip Duncan said the changeable weather of autumn, winter and now spring could continue if El Nino conditions failed to develop.
"What I've found is that when we don't have a strong weather pattern we tend to get everything thrown at us. And that's exactly what we've had over autumn and winter this year, when La Nina faded out.
"That's why summer was all one weather pattern, whereas winter has been a whole mixture of things."
Mr Duncan said there was no indication temperatures or rainfall this summer would be dramatic.
"It could have all the hallmarks of being a fairly average summer.
"And I don't mean that in a bad way."
But he stressed that predictions beyond a month were "guesstimates".
"Once you get outside of a month, anything could really happen. These long-range predictions often don't come through."
Niwa scientists will meet this week to map out their next seasonal climate outlook.