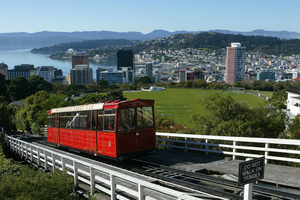 Motorists are being urged to take care as gale-force winds batter the lower North Island and inland South Island.
MetService severe weather forecaster Andy Downs said the strongest winds overnight were recorded in the Wellington suburb of Kelburn, where a 130km/h gust struck about 3am.
The severe gales would continue this morning before gradually easing this morning through to this afternoon.
"It's obviously still fairly wild out there and is set to be so for a few more hours," Mr Downs told APNZ.
Emergency services reported no major incidents overnight but have urged motorists with high-sided vehicles or motorcycles to take care in exposed places.
Mr Downs said that included "all the usual favoured spots" like the Rimutaka Hill between the Hutt Valley and Wairarapa.
Another burst of strong wind is set to batter the centre of the country tonight, with gales in inland Canterbury, Marlborough, Wellington and Wairarapa through to Saturday.
"Those winds could even get gusts slightly stronger than the event we've just had, so it's something we're keeping an eye on," Mr Downs said.
"We are looking at another period of very intense winds, particularly through Saturday morning and early Saturday afternoon for central parts of New Zealand. So all in all, still a fairly stormy spell of weather."
The West Coast of the South Island was also battered by heavy rain overnight.
Mr Downs said more than 100mm fell in the Western ranges, with up to 200mm in some parts of Fiordland.
The rain was easing this morning, with the heaviest falls easing by about midday.
Mr Downs said more heavy rain was expected on the West Coast as the next front moved across the country from tonight.
Heavy rain was also expected in southwestern parts of the North Island, with heavy falls in the Tararuas, Taranaki and the central-northern high country.
- APNZ