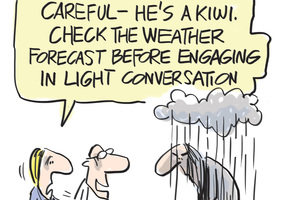 A New Zealander's happiness is inversely proportional to the number of clouds in the sky, it really is. As it is with many South Africans, Australians and, lest we forget, English. I myself didn't realise the weather was the main mood determinant until I turned 3, a la, when I can first remember kicking around. From this age onwards, I noted how people would make a big song and dance if the weather was "bad", "horrible, "nasty" or "terrible", as if it could possibly have personal qualities - and, in consequence, become niggly, resentful and, occasionally, downright unpleasant. Or, alternately, be a girly box of fluffies if the weather were "stunning", "beautiful", "gorgeous" or "lovely".
Where is the cultural imagination? I mean, surely if the weather isn't killing you, or running aircraft aground and thus risking air travellers' lives, or upending or flooding one's house, why get in a stinker? Why begrudge forces of nature beyond our control? Have people not heard of Tenpin Bowls, Chinese Tea or the cinema? These are joyous indoor pursuits, all keenly enjoyed in the event of "foul" weather.
Ducks are wise: they're never happier than in the rain and they happen to be the most content, "here and now" type creatures I ever saw; also, van Gogh would walk in ALL weathers and he's about the most famous man of all time. In other words, a bit of wind and rain is as salubrious as uninterrupted sunshine - you just have to work the angles.
But people are determined to have their weekend, wedding or picnic ruined if the weather runs "afoul". They are determined to moan, hiss and get snaky, "The summer that never arrived is over!", they bleat. But they shouldn't, we shouldn't.
I once went to a rained-in wedding and it was superb. Why? Because the apocalyptic weather outside centralised the buoyant mood of the occasion, forcing people to rub elbows with one another inside and, consequently, really kick up their heels. In other words, the wild and windy night outside prompted a wild and windy night inside, behaviourally speaking. It was gloriously elemental.
I understand people need to dry their washing, do their gardening, manage their motor camp, work their tanning or play their cricket; weather-dependent activities, all. And I therefore respect their hopes for cloudless skies and things. Well, not always; The New Zealand Cricket boys' credibility is often preserved owing to delays caused by inclement rain and howling winds, resulting in drawn test matches. So "bad weather" can be "good weather", depending on whether what you do, or achieve, is determined by the weather.
Speaking sport, the best rugby was always enjoyed in bad weather, despite it not necessarily being "pretty" rugby, clinically and physically speaking. Yet, on some weird levels, it could be plenty pretty, if, say, the surface were greasy enough. For instance, I remember Mark Carter, without trying, sliding an extraordinarily great distance when he scored a try under the posts for Auckland, a million years ago, in an NPC final against Otago, at Eden Park. It looked terrific and it was all brought about by "bad weather".
Yet, on the other hand, not a soul can remember when the All Blacks did South Africa 22 years later under the effulgent sun at, again, Eden Park. Why? The weather was so "good" we all forgot the test match. Henceforth, I wish people would make less fuss of their weather. It puts a dampener on conversation, inhibits behaviour and limits human freedoms. In saying that, worldwide weather-mania meant Crowded House scored a Top 10 UK hit with Weather With You some 21 years ago.
So you have to work the angles indeed.