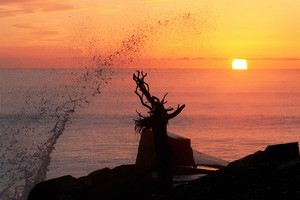 Easter is upon us and many are relying on good weather to see them through at least four days off work. Using the word "good" when you're a weather forecaster can be dangerous. You say "good" meaning sunny and warm usually, but often there are people who want rain, snow, or colder weather...for example skiers.
So rather than defining what good is, I'll just give you the basic details.
Firstly - if you're travelling - check out our extensive travel forecast for motorists, airline passengers and ferry passengers. It's the only one of its kind in New Zealand and will give you a better idea as to how comfortable your journey away will be this weekend.
So what can we expect for Easter overall?
Well the warmest, driest, weather is likely to be on Friday and Saturday across both islands.
With the exception of the West Coast and Southland almost everywhere will be mainly dry, just a couple isolated showers may pop up in the upper North Island.
The rain on the West Coast will be very heavy on Saturday - I expect rain warnings to be issued.
By Sunday a role reversal takes place. The wet stuff heads into the North Island and the South Island dries out and skies clear - but a cooler south east flow will move in to eastern areas and that will also flush out the rain on the West Coast and sunny skies should prevail for Sunday and Monday there - cloudy periods will affect Canterbury with those cooler winds off the sea.
On Monday the further south you are the better the weather should be, with rain lingering around much of the top half of the North Island.
And a quick heads up - rain or showers may linger for much of next week in the upper North Island too.
Place to be this weekend: Hawkes Bay. Should be the driest of all the regions.
Check out the official Easter Weekend forecast here.