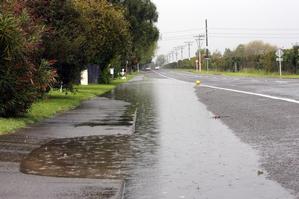 One area of high pressure in the Tasman Sea is ruining summer holidays for people in both New Zealand and Australia at the moment.
Eastern Australia has certainly had some hot, dry, weather this summer but they've also had their fair share of heavy rain. Rain warnings have been issued and floods have occurred.
A large high in the Tasman Sea is feeding the wet weather down from the sub-tropics to Australia. This is the same wind flow that runs anti-clockwise around this high and then turning around and feeding sou'westers across much of New Zealand.
More rain warnings have been issued for the South Island's West Coast for Wednesday and Thursday. I haven't spoken to anyone at MetService but I'm sure they're wanting a quiet spell as they have certainly been issuing dozens of severe weather warnings over the past few weeks. It's a bit unfair really, when you consider this should be a time when they can perhaps have some 'easy' weather to forecast while much of the nation is at the beach or enjoying sleep-ins.
For the next week even more unsettled weather is on the way for the country, strong winds and high temperatures in the east, heavy rain in the west and wet and cold in the south.
So when is the truly stable, calm, weather going to turn up? Well, what we need is for the highs to shift further south and further east in the Tasman Sea. Rather than covering the northern and central Tasman Sea, we need them to shift east and spread a ridge over New Zealand. We also need them to shift a bit further south to block the onslaught of southerly fronts that keep hitting Southland and the West Coast.
Looking ahead to next week there may be an indication of some change - it's still very much early days - but some computer models are predicting high air pressure building south of Australia.
This is what has been lacking for weeks and we is what we really need if we want some decent settled summer weather (for holidaymakers - obviously not for farmers). A high that has its centre move somewhere over Melbourne or Tasmania would be ideal.
Next Monday the long range computer models show a large high spreading south of Australia. I'll keep you posted on if it stays there and whether or not it will mean a calmer end to January. One would certainly think that it would be about time that happened.