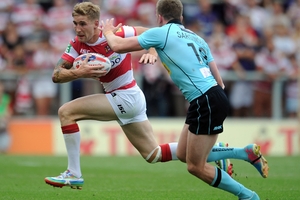 In 2008, Sam Tomkins scored five tries on his Wigan debut, a first in rugby league history.
In 2009, he scored a hat-trick on his international debut.
In 2010, he equalled the record for the most tries by an England player in a match with four.
In 2011, Tomkins scored 13 tries in a seven-game stretch and helped Wigan win the Challenge Cup.
In 2012, the fullback scored 36 tries across all competitions and was named Man of Steel as the league's best player.
In 2013, he's so far scored 23 tries in 19 league games, including four hat-tricks.
In 2014, Tomkins will play for the Warriors, the New Zealand version.
This week, the worst kept secret in rugby league was confirmed when it was announced Tomkins had signed a three-year deal with the Warriors. It was almost an anti-climax after months of speculation but the club hope his presence will be anything but.
The 24-year-old is regarded as one of the most exciting players in the game and it's why the Warriors forked out a world record $1.34 million transfer fee, on top of an estimated $700,000-a-year salary.
He's scored an incredible 144 tries in 150 games for Wigan and, while it's unrealistic to continue at such a pace in the NRL, fans will expect similar feats.
"I know I will go there with a target on my back, too," Tomkins wrote in his Daily Mail column. "All of the NRL teams Down Under will be looking to welcome me to the league and I'm sure it won't be with a handshake, but I'm ready for that."
Warriors five-eighth, close friend and former Wigan teammate Thomas Leuluai, has no doubt Tomkins will be a success - Warriors coach Matt Elliott told TVNZ earlier this week Leuluai had said to him, "if you sign him, he will be the best signing you'll ever make".
"Attacking wise, he's quick and elusive and is a great support player," Leuluai says.
"But his best quality, I think, is his competitiveness. He's always on the ball and always fighting for the team. He's not that big [at 83kg] but so competitive and plays above his weight.
"I think it could take time to adjust, not just to the NRL but to us as well. He's been playing in the same team, same club since he first started. It took me a while to adjust when I came over."
Tomkins was born in Milton Keynes and started playing league as a seven-year-old. He showed considerable talent, prompting his family to move to Wigan where he joined their scholarship programme at 12 and academy at 16.
He made his first-team debut at 19, when he scored five tries (three inside the first 12 minutes) in a 106-8 romp over Whitehaven in a fifth-round Challenge Cup match.
Since then, he hasn't stopped scoring. He started his career as a five-eighth but moved to fullback in 2010 under Wigan's new coach Michael Maguire (now at Souths) and was an instant success.
He's had a largely incident-free existence apart from 2011 when he got in hot water for offering a two-fingered salute to Leeds fans after scoring in Wigan's Challenge Cup win at Wembley. Tomkins had been booed by Leeds fans when playing for England earlier that year but soon regretted his actions.
He spends considerable time in the spotlight, often his own choice given he also works for Sky Sports in the UK. He's even worked the red carpet and interviewed Russell Crowe before a movie premiere, when Crowe warned him off the Warriors and urged him to join Souths instead.
Tomkins hasn't opted for the easy option by joining the Warriors, who continue to under-achieve, and he will displace the popular Kevin Locke at fullback.
He will be judged critically, in a similar way former Wigan forwards Denis Betts and Andy Platt were when they joined the Warriors in the 1990s, but most expect him to be an overwhelming success.
Wigan will miss him, of that there's no question, but coach Shaun Wane tried to put a positive slant on it when he said, "we are lucky to have had him for eight years".
The Warriors count themselves lucky to have him for the next three.
- APNZ