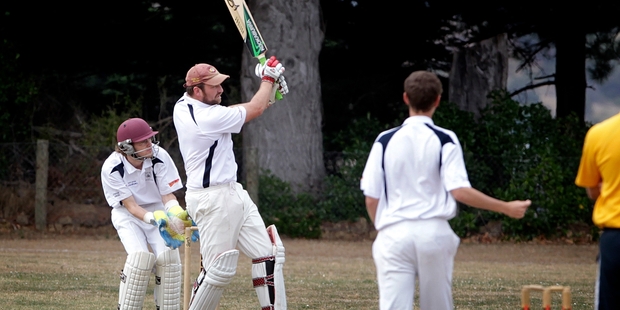 The Wanganui cricket fraternity appears to have full faith in the new representative coaching staff announced this week.
Former Central Districts Stags captain, Ian Snook and former Wanganui cricketer Rodney Bannister have been appointed to take charge of Cricket Wanganui's senior representative side for the 2014-15 season.
Cricket Wanganui Association chairman Stu Gill said he was delighted to announce the Snook/Bannister appointment which recognises the need to increase the resources dedicated to the Active Physio Wanganui senior men's side as the pinnacle of representative cricket within the district.
"With a large group of good, quality junior representative players coming through the pipeline and a few older heads the season is already is looking promising," Gill said.
"The board is viewing the appointment process as a multi-year commitment to enhance and nurture promising local talent.
The aim is to turn out a professional, fit and enthusiastic playing squad, delivering credible, hard-fought performances against our larger CD neighbouring districts."
Snook is from Taranaki and has a fantastic sporting pedigree in cricket and rugby.
"Ian's coaching background has been predominantly in rugby, but his ability to shape teams and build a successful culture was identified as a key attribute in his appointment," Gill said.
Snook has coached rugby professionally for the past 25 years in New Zealand, South Africa, Australia, England, Ireland, Japan and Italy.
"Rodney is a successful sports person having represented Wanganui at Hawke Cup as well as overseas experience with Namibia and Hong Kong.
"Rodney is still involved competitively, but on the squash court with national and Australian titles to his name. Rodney runs his own motivation company and will bring that knowledge and experience to assist the representative players in achieving their goals."
Outgoing Active Physio Wanganui player/coach Dominic Rayner, who also captains Marton-based Saracens, said the arrival of the new coaching staff was like a "breath of fresh air".
"Ian Snook has a lot to offer and all the players I've talked to are on board and getting excited," Rayner said yesterday.
"They're really getting stuck in - most are already well into their fitness training and that's early."
Rayner stood down from coaching duties at the end of a disastrous last season when Wanganui won one game in October and got blown off the park in the Hawke Cup.
The poor performances were well documented. Rayner will, however, be available for player selection this season.
Club sides are also eagerly awaiting the new regime, especially the motivating/personal training style of the newcomers.
United 1st XI captain Max Carroll welcomed the announcement and agreed with Rayner the new regime had widespread backing from the players.
"It's great to see two people with a real passion for the game at the helm.
"They both have a decent background in the game and bring their own set of skills," Carroll said.
Snook and Bannister are well known for their skills as motivators and personal trainers.
Everyone who meets Bannister quickly realises he does not have a negative bone in his body and prides himself on a belief system that mind and body are a temple; a tool to be used to win sporting and life battles.
Snook played 40 first class matches, mainly for the Central Stags, as a right-handed batsman and right-arm off-break bowler. He scored 1344 first class runs, including one century and five half centuries.
The Wanganui squad have been in preparation for the past month. Their first challenge is at the Chapple Cup on October 17-19, CD's eight district associations tournament.
Wanganui's first opponent is Manawatu who will boast the likes of NZ and CD players, Adam Milne, Jamie How, George Worker, Dane Cleaver, Bevan Small, and Dave Meiring.
However, before that the Wanganui XI will play a warm-up game against Horowhenua-Kapiti at Donnelly Park in Levin on September 12. Trials will be held before the warm-up game.