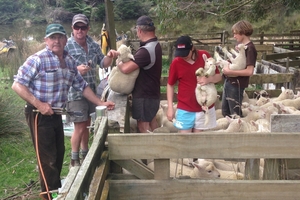 The Waverley Murphys have the philosophy that the family that works together, sticks together.
The old adage certainly suits for the hard-working clan, who farm three blocks and run Liquorland outlets in two cities.
Patriarch Kevin Murphy and son, Ben, farm the blocks at Omahina about 13km inland behind Waverley, another son, Shamus, runs the 480ha Mangaweka lease block.
Kevin's wife, Jenny, operates the Wanganui Liquorland franchise when she's not toiling away on the farm.
Daughter Amie runs the family-owned New Plymouth Liquorland outlet, while her sister, Maggie, is a teacher at New Plymouth Girls' High School and eldest son, Damian, is a chef splitting his time between top class hunting lodges in New Zealand and the United States, usually spending six months in each country.
The farming side of the Murphy empire rides the giddy sheep and beef roller coaster with neither the Omahina nor the Mangaweka blocks suitable for conversion to dairy support.
The Omahina operation involves around 1300ha, although a great deal of that is either in bush or planted in mature trees ready for harvest, probably this summer. "The roading is going in now,' Kevin Murphy said.
Mr Murphy modestly says he's "not among the best farmers in the country", but the Omahina block can be challenging country and they regularly produce well done cattle and sheep for the market.
While the spot market is an option, many of the store lambs are farmed on contract to nearby Silver Fern Farms in Waitotara. Some lambs are finished on the property, although much depends on the season.
"We also grow a few crops for lamb feed. It can be a hard up here, but we were hit very hard during last season's drought, especially on the Mangaweka block. We're probably down 600 or 700 lambs on last year," Mr Murphy said.
The Omahina block is picturesque with bush and beautiful lakes. Parts of the farm are home to a variety of feral animals ideal for hunters. In fact, son Ben is comfortable with approved hunters using the block for game. The Murphys also have a few beehives and often sell the finished manuka and bush honey products through the Liquorland outlets in town.
Jenny Murphy's touch is clear in the Liquorland outlets with both arguably among the friendliest places to shop in both Wanganui and New Plymouth.