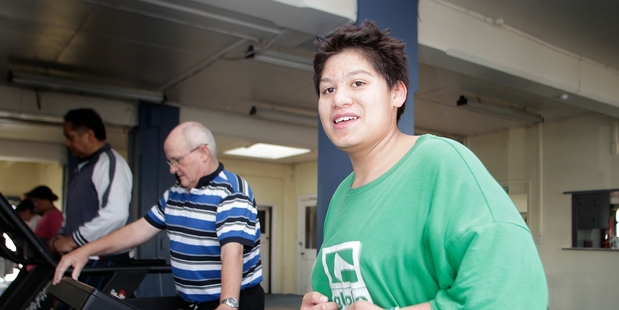 Among the weights, the strain and the sweat of Wanganui's City Gym, a teenager is pounding out the kilometres on a treadmill.
Meet Layton Rameka, who turns 15 in a few months, a boy whose personal journey is worth recognising.
Danny Burns, co-owner of the City Gym, reckons Layton's story is "truly inspirational".
The youngster turned up at the gym with some of his cousins in February. He is not a tall boy but still tipped the scales at whopping 115kg.
"But Layton was different from the start and not just because of his weight. While the others who came with him took breaks here and there, Layton just kept coming in five days a week," Mr Burns said.
"He's been really inspiring actually," he said.
Fast forward from February and the teen has shed 22kg in less than six months.
"He's a huge inspiration for a lot of young guys in the same situation. We're really proud of him," Mr Burns said.
He said the former Wanganui City College student had been typical of someone leading a sedentary lifestyle and eating the wrong food. But this teenager is different because he decided he wanted out of that lifestyle.
"We gave him a programme to follow in the gym and we've been working on a dietary plan. We write down what people eat at the moment and then re-arrange that. But Layton did a lot of that himself," he said.
Already Layton's T-shirt and shorts are way too big for him, indicating how much slimmer he already is.
When the Chronicle caught up with him yesterday morning, Layton said 70kg is his target goal.
He wanted to shed the weight for a simple reason: he was getting bullied at school.
"I'd had enough so I decided I wanted to change that. I want to get fit."
Until now Layton has not played sport but he will soon "when I get muscly". And when he does start playing sport, the first thing will be rugby.
He is at City Gym Mondays to Fridays for two hours each day and he has changed his diet.
"I used to eat heaps of junk food, burgers and stuff. But now it's healthy stuff like chicken and salads."
Layton said his family was supporting him and he feels better for doing what he is doing.
"If other kids are overweight, they should get into it too."
Layton has not decided which rugby club he wants to play for - but if any coach is looking for someone with truckloads of determination, here's one kid who won't let you down.