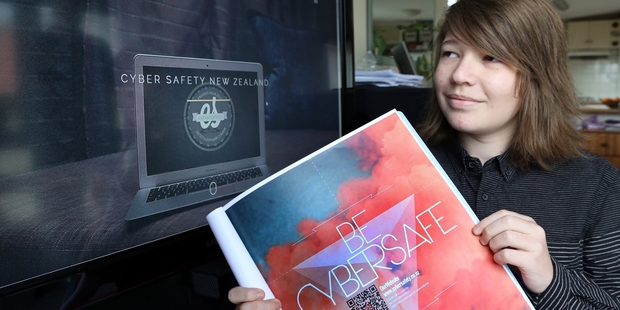 A Wanganui teenager who was forced to leave school because of bullying is combining his experience and interest in computer programming to educate people on cyber safety.
Justin Myburgh was one of 140 teenagers across the country to take part in #WebRangersNZ workshops, learning how to build public awareness campaigns. Every student then had six weeks to create an internet safety campaign in a promotion run by Google and Netsafe.
The Wanganui teenager created a website with cyber safety information, a rap video and a poster which his dad delivered to schools and community centres across the North Island.
His work earned him second prize in the competition and he made a trip to Wellington on Tuesday for a presentation at Parliament.
The 15-year-old, who taught himself computer programming with guidance from his uncle, coded the website and the video himself.
Justin said simple things like not giving out personal details or speaking to strangers online would help keep people stay safe.
He did a lot of reading but also included a range of his own tips and advice on the site.
He said cyber bullying was becoming more of an issue as more people became connected to the internet in more ways.
"Lots of people have the phones that can connect to the internet and computers," he said.
His mum Cherrice said Justin was keen to work in computer programming and showed a talent for it.
"He always pushes himself and always tries to be in trend with things."
Justin was bullied at Wanganui High School and is now homeschooled via Te Kura Correspondence. He said his experiences helped him create the project.
"I know how to face it and how to help other people," Justin said.
Justin's website can be seen at www.cybersafety.co.nz and the video at www.youtube.com/watch?v=HDBaP6Pskis