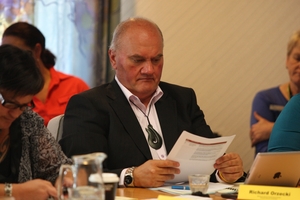 Wanganui could become a draw for Americans without insurance who want hip replacement operations.
That's the view of Whanganui District Health Board member Richard Orzecki.
Mr Orzecki floated the idea at a health board meeting last week during discussion about ways the DHB could generate more revenue.
"There's a certain amount of competition among health boards," he said.
"I think the Whanganui DHB needs to look at bringing revenue in from overseas ... I certainly think we need to test the waters."
Mr Orzecki said Wanganui had good quality healthcare to offer overseas patients.
It was so expensive to have a hip replacement in the United States without insurance that it would be cheaper for patients to fly to New Zealand and pay for the operation to be done here.
"People could come here, have a little holiday, then get the operation done," Mr Orzecki said.
"It's like New Zealanders going to Thailand to have a holiday and have some orthodontic work done."
He compared the idea to schools taking in overseas students who pay large fees to study here. "Some New Zealand schools have basically kept themselves afloat because of their overseas students."
Health board chairwoman Kate Joblin said while Mr Orzecki's idea was interesting, making it happen would depend on the capacity in the health system.
"Whanganui DHB certainly couldn't do hip replacement operations at present, as we are using orthopaedic capacity to the fullest," Ms Joblin said.
"We would not be averse to providing services to overseas non-eligible people for a fair price if we had an agreement with the Ministry of Health but, of course, only in those areas where our own community's needs were all being met."
She said the ideal situation would be for the Whanganui health board to start by taking in work from other New Zealand DHBs. "The problem is, other DHBs feel the same. They want to be doing elective work for their own population," Ms Joblin said.
Attracting work from outside the region was just one of the revenue-raising strategies the DHB was considering.
An article in the New York Daily News in February said routine hip replacement surgery on a healthy patient without insurance may cost from US$11,000 (13,140) or up to US$126,000 ($242,000).
"That's what researchers found after calling hospitals in every state, 122 in all, asking what a healthy 62-year-old woman would have to pay to get an artificial hip. Hospitals were told the made-up patient was the caller's grandmother, had no insurance but could afford to pay out of pocket. That's why knowing the cost information ahead of time was so important," the article said.