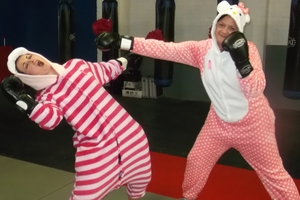 The Breast Cancer Foundation will be tickled pink with the efforts of the Fight Fit Training Centre, which raised $160 last week for research.
The St Hill Street centre members and staff dressed themselves and the gym in pink and brought a gold coin donation on Wednesday to raise funds and have some fun.
Organiser Sara Owen said the event was "amazingly supported", with most people going all-out with their outfits.
"The fact of the matter is that we all know somebody affected by breast cancer, and when one of our own members was diagnosed recently it brought the reality even closer to home."
She said Fight Fit wants to donate the giant pink bra which had pride of place on the day to a breast cancer-related cause.
"Call me on 027 2216732 if you are interested."