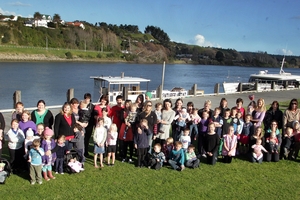 It's a case of don't call the midwife - not yet, anyway.
Scores of Wanganui parents are working together to produce a baby book for midwife Linda Findlay as a surprise while she is on holiday.
The popular midwife from the Aramoho Midwifery Service has cared for hundreds of mums and babies in more than 30 years on the job.
And baby book organiser Melina Holmes said a record of as many of her babies as possible was a way of saying thanks.
"A few of us were chatting and we all got the impression she had touched so many lives in a positive way. We wanted to do something extra, but she's not retiring or anything. Often we all leave things too late to say thank you."
The book is being put together through a Facebook page, Babies of Linda Findlay.
Melina and fellow organiser Tash Bullock don't know exactly how many babies Linda has delivered but think it is near 2000.
"We were talking about it but we have no idea. But if a midwife delivered on average 60 babies a year for at least 30 years ... that's quite a few."
But it's the quality of service not quantity the women want to honour.
"Linda always goes above and beyond for her clients. She is an amazing women who gets adopted into the families she works for. She goes the extra mile for everyone, be that extra visits for some, or longer visits with others. She will visit people in her lunch hour, help with transport, you hear a lot of stories like that."
And she gets repeat business.
Linda has been midwife to the Toohill family for more than 25 years.
She delivered Aimee Toohill in 1987, and because her mother, Helene Toohill, had such a good experience, Aimee chose Linda as her midwife for her own baby.
"Mum loved her and told me she was always there for her - night or day. And it's been the same for me. She answers any question I have. And if she's not available, if she's with another mother, she'll text to say she'll get back to you as soon as she can."
Linda was the midwife for Aimee's daughter Ellah-Rose and was there for six months of her pregnancy with her other child, Kristah. But Aimee then moved to Palmerston North before the birth.
The bond is so strong that Linda was the only choice for Aimee's 18-year-old sister, Abigail, who had twins Noah and Hunter this year.
"At first she wasn't able to because she was full up, but she said 'Because it's your family, I will'. So it's been two generations for us, and now my sister. It's really nice."
The Facebook page shows the midwife has been there for the good times and the bad.
One entry said: "Linda was my midwife too, she kept in contact while I was in Auckland after my wee Down's girl was born and rushed up there, and when my girl had her first heart op. Linda has also been with me through my three miscarriages too. So would be happy to give a photo of my Katelyn for your baby book."
The book will be presented to Linda next month.