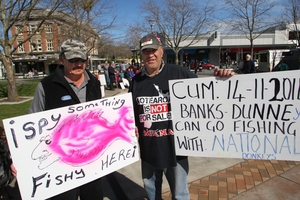 Forty people protested in Wanganui yesterday that New Zealand doesn't need another Government body spying into the communications of citizens.
They gathered in Majestic Square yesterday in opposition to the Government Communications Security Bureau (GCSB) Bill which is about to pass through Parliament.
The protest was organised by Labour candidate Hamish McDouall and former Greens candidate John Milnes. They said it was not linked to any political party.
People assembled with placards, to the music of Bob Dylan, and shared an open microphone.
Mr McDouall ended his speech by leading the group in singing the national anthem. He said that was appropriate, because it was a patriotic duty to critique government actions.
The bill had its third reading in Parliament yesterday and was likely to be passed with a majority of two today. The National-led government aims to make it legal - with checks - for the bureau to spy on New Zealand citizens if asked by the Security Intelligence Service, police or defence force.
Previously the GCSB has only been able to intercept communications from overseas.
Prime Minister John Key has said New Zealanders are more interested in the snapper quota than the GCSB Bill - and he thinks the bill is needed to protect national security.
"I think there will always be a point where privacy intersects with national security, but I think we've got that point about right."
Mr McDouall said being able to communicate with others without state surveillance was a fundamental freedom.
"Any time you take a freedom away you rarely get it back."
United States spying exposed by whistleblower Edward Snowden showed what abuses were possible when such freedoms were lost.
He speculated whether passing it was tied up by the United States with the Trans Pacific Partnership, or by the National Party with a renewed ministerial warrant for Mr Dunne.
Protester Vince McBride said the GCSB was tied in with the US system of international surveillance and its activities were not needed in New Zealand.
"It's an unaccountable organisation. We've got our own security apparatus.
"There's no need to have an organisation that takes its orders from the US."
Anne Shand said she and her husband were totally opposed to the invasion of privacy.
"We want to see New Zealand really get behind and oppose this.
"It's not like New Zealanders to be apathetic."
A woman who did not want to be named objected to the way the bill was pushed through with such a narrow majority and so little discussion.
Mr Milnes rubbished the notion that people doing nothing wrong had nothing to fear.
"What happens if tomorrow something that you're doing today that's perfectly all right suddenly becomes wrong? Then you will find out what Big Brother is really all about."