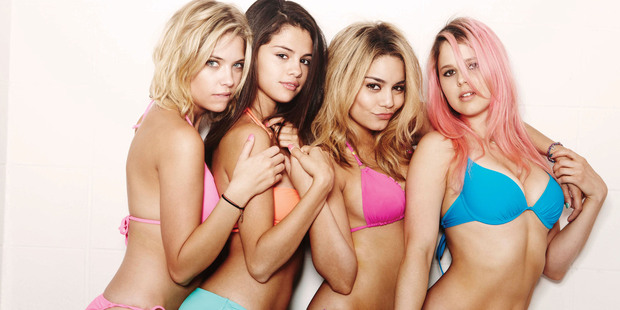 Disney darlings Selena Gomez and Vanessa Hudgens certainly have a shock in store for their fans.
Seemingly in an effort to break clear of their wholesome teenage mould, the two young women have taken on characters far from the High School Musical franchise and The Wizards of Waverly Place.
Faith (Selena Gomez), Candy (Vanessa Hudgens), Brit (Ashley Benson) and Cotty (Rachel Korine) have been mates for ever.
With the college spring break approaching they want to break free from the shackles of their tedious lives.
With Florida the place to go and be seen, they are determined to make it there.
While Faith has a religious background, the other girls are prepared to do what it takes to fund their trip.
And the life they find in Florida is all about alcohol, drugs, boys, beaches and bikinis.
The life they find is disturbing.
The police do catch up with them but they are bailed by a gangster called Alien (James Franco).
They know he is bad news but they are soon seduced by his money and smooth talking.
He introduces them to a wild life they have never known, taking them down a path that is certainly going to end badly unless they can find the courage to escape.
Spring Breakers is a long way from what I expected it to be.
It is dark, drug-fuelled and disturbing on many levels.
Spring Breakers
(R18) Roadshow Entertainment
Rating: 2 / 5