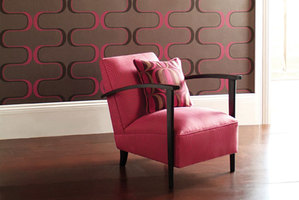 I thought this week I might give you a few dos and don'ts to think about when you're looking at options for your homes.
Rules and guidelines in design are there to assist us - and sometimes to be broken.
DO take time to discover your personal style - read books, magazines, look in design stores, think about the colours, fabrics and textures you like.
Most of us have a personal style. It may be classic, down to earth, easy living or eclectic - or a mixture of old and new, treasured pieces.
Whatever your personal style is, take time to understand it.
DO purchase large ticket items first such as large pieces of furniture, flooring etc.
Often we start with "less choice, most expensive" because some of the products that go into our homes such as flooring there are fewer options for colour or texture but these can be a major expense and a permanent fixture.
Large pieces of furniture also fall into this category. This will help determine your style and colour choices.
DO identify your room's focal point. This is very important and with some rooms this can be hard to find.
It might be the bed, a fireplace or even the view, but if you create too many focal points in a room they become unsettling to be in.
Focus on what you want the room to do and work from there.
DO co-ordinate fabric and flooring choices before making any major purchases and especially before choosing your paint colours. Paint for your walls should be your last choice.
This is important because many people will start with the paint colour and there are so many choices in paint that it should be the last thing you choose. I'm not saying don't think about it but have it in the back of your mind and co-ordinate.
DO mix patterns. Make your rooms interesting by adding large scale, small scale, checks, stripes, floral patterns in your furnishings and wall treatments.
It doesn't need to be over the top or all at once, but when done well it looks great.
DO consider carefully the function of the room before starting. Do you want a theme room, is it dual purpose, what sort of atmosphere do you want to create? Plan your spaces carefully so that you get the most benefit out of your home.
DO purchase the best quality furniture you can afford.
Look at its construction and materials - will it last the distance or is the construction cheap and cheerful and will need replacing in a couple of years. Which is the more cost effective - something that will break down or go out of fashion in a couple of years or something well-constructed and classic or simply a one-off?
And a few pet hates or guidelines to follow:
DON'T paint your walls then go out looking for fabrics to match - do it the other way around? There are far fewer fabric options than paint colours.
DON'T paint a room without trying a sample of colour in the room. Test pots are cheap. And always paint the sample colour on a piece of card so it can be moved around the room.
And never look at two or three colours together unless you intend using all those colours together.
DON'T choose your final colours standing in a store unless you plan on living under the same lighting and with the same flooring. Take the colours home to try.
Lighting, texture and pattern all play a part in choosing the right colour, even if you are looking for an exterior colour. Your property hopefully doesn't look like the car park of the paint shop; it is hopefully softened by landscaping or may have light or colour reflected from a neighbouring property.
DON'T keep something you hate. You don't have to keep that hideous old purple chair from Aunty Greta (she was a real aunty, but didn't have a hideous chair). Get it recovered in something you love and make it a feature or just maybe you want it to melt away in the background.
DON'T decorate around items that just aren't "you". If you can't stand those expensive curtains that your husband's ex-wife lovingly sewed when they were first married ... get rid of them.
Believe me, the room will never work if you hate them, no matter how many options you try.
These are just a few things to think about when you're looking at your living spaces for a revamp or total overhaul.
Most of all, the process should be one to be enjoyed. I love working with colour and texture and introducing well designed pieces of furniture or working with existing pieces, or reinventing spaces to be loved and lived in.
Fortunately for me, though, not everyone does ... otherwise I wouldn't get to meet or work with such lovely people.
If you have any questions, give me a call on 0276023298 or drop me a line on terry@terrylobb.com