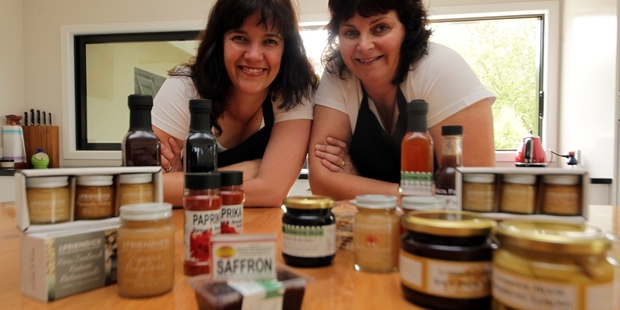 From black puddings to horseradish and apricot mustard. From triple cream brie to fig, port and cardamom paste.
If it's fine food you're after, then a couple of enterprising Wanganui women can get it to you.
Rachael Dawson and Claire Cilliers met through business and this month launched their own food supply business, aptly called The Grocers.
They use the name because they see it as a comfortable fit around the sorts of food they are selling - foodstuffs that people have to order and then the company getting those products from the list of suppliers they already have in place.
It's just as it was when, a generation or two ago, people did their shopping at the local grocer's store when things were bagged and weighed and very little was pre-packed.
Ms Cilliers does business consulting and had been working with Ms Dawson and her husband in his business when the women found they shared a passion for food. And when Ms Dawson showed Ms Cilliers an article in a magazine, the seed was sown.
"It triggered something in me because I'd be doing a whole heap of research on food manufacture. It literally started to roll from there," she said.
Within a few weeks their business was up and running and they actually started trading from November 8.
Both women are self-confessed foodies but said a lot of the time they could not find ingredients for recipes they often came across in magazines, things like specialty cheeses, chocolates and varieties of deli meats. They realised they could fill a niche.
Ms Dawson said it involved "heaps of work" to find suppliers. They also realised they could not hold much stock on hand, especially perishable items, so it meant getting supply lines in place direct with those suppliers.
"We collate our orders that people send in on a Friday and they'll have their orders by the following Friday," Ms Cilliers said.
Deliveries are made door-to-door by courier.
Into their second week of business and Ms Cilliers said the orders have started ramping up.
"That's because people have looked at our catalogue and seen things in it that they haven't been able to buy locally before."
Ms Dawson said to try to ensure they get the best quality, they have set up a "taste testing" panel, mainly family and friends. It's about making sure they get the best quality goods before offering it for sale.
"It's really important that the products we sell are those that people would actually be interested in and tastes good. We're not going to be selling stuff just for the sake of selling it. We need to know what it tastes like.
"There isn't much that hasn't been run through our tasting panel," she said.
The Grocers cover the Wanganui district, from Ohakune in the north, across to Waverley and down to Bulls.
The name - The Grocers - was Ms Cilliers' idea. "It resonates of the 1950s and all the foods we supply are whole foods and good foods."
"The suppliers we have are passionate about the food they create. For them quality is the priority while volumes and sales and all that is secondary to them. They're not prepared to compromise," Ms Dawson said.
And that's the philosophy of The Grocers.
Ms Dawson and Ms Cilliers know that quality carries its own price and given the product range and the type of foodstuffs they are selling, the prices will be "a little higher".
"The point is you get what you pay for," Ms Cilliers.
As well as the food sales, The Grocers will supply platters of food.
"If you're having a function and are looking for plates of nibbles we can provide those," Ms Dawson said.
There are four options including a savoury platter, a cured-meats platter, a cheese platter and a platter of sweets. The minimum catering is for six people.
They have an 0800 number and orders can also be emailed or faxed.
"We haven't gone on to internet ordering yet. In true 1950s form we've got an order form, the way you would have done when you were ordering from your grocer in those times," Ms Cilliers said.
To contact The Grocers telephone 0800 GROCERS (476 2377), fax (06) 348 8445 or email info@thegrocers.co.nz.