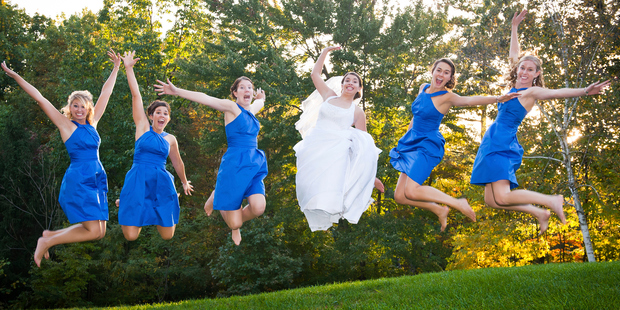 Cassandra Mason discovers that being in the wedding party can get expensive, so it's prudent to make savings wherever you can.
Asked to be a bridesmaid? Get your wallet out - you could be in for a financial hit.
Organising a "classy" hen party with nice food, good grog and the mandatory stripper can set you back a small fortune - not to mention your dress, shoes, nails and hair.
What's expected of the modern maid?
Christchurch wedding planner Emma Newman says bridesmaids' duties have changed drastically over the years, and things are no longer as straight forward as setting up the local church.
"Things have changed now and a lot of brides want the wedding to be a statement of who they are. They want all the bells and whistles and sometimes they still expect their bridesmaids to be able to help with that."
Traditional duties used to include getting the bride to the church on time, opening presents, making thank-you lists and handing around cake.
Weddings used to be much simpler, but the years have brought an increasing focus on food and wine, and the desire to look beautiful, Newman says.
"It makes me sad that brides sometimes expect their bridesmaids to be so heavily involved. It can become a full-time job."
"Destination weddings" were also becoming more popular - a huge cost for those who had to fly halfway across the world.
Ninety per cent of the brides Newman dealt with had at least one bridesmaid flying in from overseas.
"The fact we're so global now, and the age that we're getting married, [bridesmaids] are usually in London or America. It's not a cheap exercise to come back for fittings."
What can it cost?
Christchurch solicitor Charlotte Webber is a veteran bridesmaid at the age of 29, having seen the bride to the altar four times already - set to be six by the end of next year.
"It is a real honour to be someone's bridesmaid, but there are some costs that come with it."
"Luckily" she hasn't had to fork out for her own dress, shoes, hair or makeup, but it's not uncommon for the bride to expect that.
However, the cost of the mandatory "hen night" can be steep for bridesmaids.
The first hen party Webber threw cost close to $1000.
This included $75 for invitations, $85 for the bride's costume, $300 for food and alcohol, $160 for games and $50 for decorations.
Christchurch's "finest" stripper set them back $250.
New to the game, the four bridesmaids didn't ask guests for a contribution - a costly judgment that Webber wouldn't repeat.
Hastings bridal couture shop RSVP Bridal Couture co-owner Andrea Yee says there's huge variety in what brides expect from their maids.
Bridesmaids' dresses at the shop range from $220 to $530, and there's a "mix" of who gets the bill, she says.
"But if the bridesmaids are paying for it, they like to have a say."
Is it too much?
Brides need to be realistic about their expectations, Newman says.
"Sometimes they have this very romantic idea of bridesmaids helping at every turn ... that might've been fine in your mother's day, but [the bridesmaid's] probably got a child of her own, or a business."
Newman knew of bridesmaids doing all-nighters because it had been underestimated how long it would take to get a marquee dressed.
In terms of hen parties, pick something that will suit the bride and isn't going to cost a bomb, she says.
"You don't need to be doing party buses. You don't have to go for a full-day spa experience that will cost you each $400. Go to a nice restaurant, get your nails done at the house beforehand, have a pot-luck dinner."
Money-saving tips for throwing a hen party or bridal shower:
* Use e-invites or Facebook, paper invites can cost into the hundreds.
* Ask guests for a contribution. It's unrealistic to bear all the costs yourselves.
* If you're going to play games, pick ones that don't require many props.
* Prepare food yourself instead of having it catered.
* Don't get carried away and keep things simple.