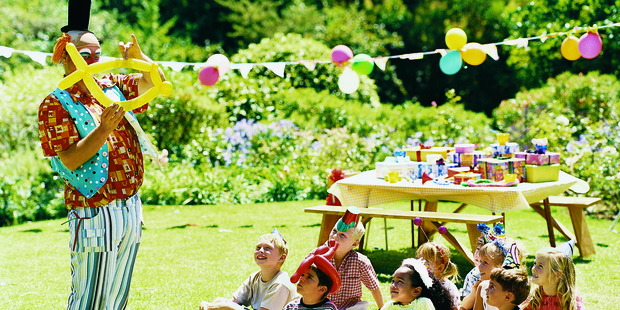 Forget face paint and fairy bread, Kiwi kids' parties have become way more elaborate. Cassandra Mason looks at the costs involved and how not to break the bank
Walnut the Clown has been in the business for 35 years, and says children's birthday parties have changed dramatically.
"A lot more birthday packages have become available. Thirty-five years ago, you didn't have bouncy castles, you didn't have fairies or chipmunks," the Auckland entertainer says.
"You'll turn up to a 1-year-old's birthday party and there'll be two bouncy castles and a merry-go-round. I'll come and do a magic show and balloons, and then Mr Whippy will turn up."
A lot of money is being spent on parties today, where in the "old days" there would just be an entertainer.
Clowns are still popular at parties, but the rise of other options is making work harder to come by, Walnut admits.
"We live in a far more material world than we used to."
How are birthday parties changing?
Managing director of Wellington-based Build a Birthday party planning and supplies company, Fay Drysdale, says more parents want to do something special for their child's big day.
Parents are holding more parties at home, rather than venues, because it frees more money up for "trimmings".
"They're trending towards doing a better job at home. They want it to be beautiful and they want pompom decorations and beautiful table settings."
Working mothers often felt trapped between doing a good job at work and being a good mother, Drysdale says.
"It comes from wanting to be a good mum, to wanting to get the best for their child, and their birthday is still a really special time."
An element of competition still exists between parents over who can throw the best party for their kid, but the competitiveness usually comes from "a good place".
"A lot of people portray it as a bad thing, but people want the best for their child. They see what other people have got and that helps them benchmark [it]."
The best party money can buy
Parents bring their budgets to Build a Birthday and parties are tailored to suit what people can afford.
Party staples include a cake, decorations - although people are moving away from balloons towards things such as tissue pompoms - and goody bags.
"Party bags are at the majority of parties," Drysdale says.
"Typically boys like things that are action-oriented like bouncy balls and slime. And girls like a wide range of things ... usually pretty items like necklaces and rings."
Some parents are spending up to $20 a child on goody bags.
"That blows some people away because that's almost what the gift costs," she says.
What can a kid's birthday party cost?
Entertainers such as clowns and magicians cost about $160 to $180 an hour, and a bouncy castle costs about $130 for six hours.
Birthday cakes can cost anywhere from $20 to $200, depending on whether parents make it themselves, buy it from the supermarket or order a premium cake. Cheap decorations such as balloons, which cost about $5, are becoming less popular as items like tissue pompoms take over at $40 a pop.
But there's no need to go all out for your child's birthday party, and there are ways to cut costs without compromising their special day.
Money-saving tips
* Have the party at home or in a public space rather than hiring a venue.
* Keep the number of guests to a minimum - there's no need to invite the whole class.
* Buy food in bulk, and stick to cheap, popular foods like saveloys and pizza.
* Make your own cake.
* Send email invitations or make your own invitations using craft supplies you already have.
* Goody bags can be expensive, so many parents substitute the bags for one item or prize kids can take home.
* Games like musical chairs and pass the parcel are a much cheaper alternative to hiring entertainment such as bouncy castles.