Wales had a record number of tourists in the British and Irish Lions in Australia and dominated last night's first test team. Wynne Gray investigates whether that could cause difficulties on this tour.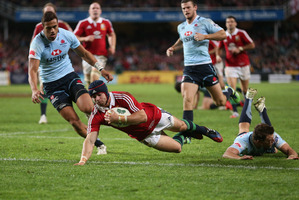 Asked on the Lions trip to South Africa four years ago what touring qualities galvanised such a group and spurred team unity, Brian O'Driscoll offered a simple explanation.
When the experienced centre went to the team dining room, he looked only for a space at a table - not at who the players were sitting around it.
There was a strong spirit on that trip, with that sort of camaraderie underlined when Irish wing Tommy Bowe was quizzed about his post-tour holiday plans. He was not heading home, instead he was off to Las Vegas with a variety of team-mates he had become buddies with on tour.
Warren Gatland was an assistant coach on that trip - where he could witness and understand even more the ethos needed to deliver better off-field harmony to complement playing standards.
He is preaching those same selfless qualities again in Australia and this week delivered a scalding stare at a reporter before giving a controlled reply to a question about the Welshness of his first test side.
Paul Rees, a senior journalist at the Guardian and a proud Welshman, has gathered all sorts of perspective on Welsh rugby, the Lions and Gatland. He has watched Gatland key into everything Welsh for some years.
"But this is a Lions tour and he knows nationality meant nothing. Form was the only selection arbiter and he has reinforced that to the group in a number of ways," said Rees.
When the Lions gathered for this trip, Gatland reminded them about the strength they would draw from cohesion and selflessness. If they were united in their purpose, they would add to their potency.
Players like flanker Justin Tipuric and hooker Richard Hibbard were strong men for Wales; they were the backbone of the pack. However, Gatland and the selectors felt they had been shaded on tour and that was reflected in the selection for the first test.
Gerald Davies, the twinkling Welsh and Lions wing in the 1970s, Lions manager in 2009 and now chairman, explained some of the theory about bonding the men from four nations.
"People used to say forget your nationality but when I managed in 2009, my view was, no, you can't deny who you are, you can't ignore where you are from, acknowledge where you belong," he said.
"I told them to recognise their own national identity but take an imaginative leap and become something else to become a Lion. And when you do that, recognise who everyone else is and respect their habits, their history and traditions."
There was distress for many Lions this week with the selection of the midweek team to play in Canberra and the ensuing defeat. Those twin facts confirmed they would be sitting in the stands last night at Suncorp Stadium.
Others had received earlier news they found tough to digest. Centre Jamie Roberts had damaged a hamstring and his chances of an opening run in the three-test series.
Some Brisbane test selections were line-ball and hard on men used to being first picks for their Home Nations. They were hurt, disappointed they had not made the cut, perhaps angry at themselves, the injury fates or the tour games they had been picked for.
That is the life of a Lion, though, a much more difficult gig for a player and the selectors than a tour with the All Blacks where there is usually a distinct break between the test squad and the back-up crew.
This opening test week thuds into all the players. There will be comparisons and questions about any links between the discordant 2001 tour led by Graham Henry and Warren Gatland's troupe.
Suggesting such rancour may occur in these tourists is as easy and facile a statement as the oft-heard chestnut that New Zealand plunders the Pacific Islands for rugby talent. Perhaps the changing scene in Europe and the nine Lions born outside the team 'boundaries' has helped quash such thinking.
Twelve years ago, Henry was chosen as the Lions coach after a brief few seasons with Wales and settled on his test team early. There were ructions - topped off by Matt Dawson's revelations about disharmony, in print, on the morning of the first test.
Henry later accepted he had not grasped how strong and divisive individual agendas could be on Lions tours compared to the New Zealand way of all shoulders to the wheel. He was staggered when told a number of the squad felt they had been alienated.
Gatland might also be a Kiwi but he is no drive-by coach. He started with Ireland in 1998 after a club apprenticeship there and has moved through the English club scene with Wasps to his head coach role with Wales.
When Wales thumped England in the final of the Six Nations this season, that confirmed Sam Warburton as skipper alongside a sackful of his countrymen.
Other considerations came into the lengthy selection meetings before the original tour squad was announced. Players who might infect the side because of personal disappointments were identified.
There have been times, Davies acknowledges, when Wales were not rated as strong tourists. That is improving. On this trip, men like Leigh Halfpenny and Toby Faletau are very quiet but someone like Ian Evans is boisterous. Players all respond differently to the various social and playing contexts.
There were accusations about the English influence on the 2005 Lions visit to New Zealand. Sometimes an imbalance of playing numbers occurred but that was countered if the mood and spirit in the squad was instilled from the start.
"What is a bonus is there is a sense of continuity here now," Davies said. "Andy Irvine as manager sets the spirit and the bonus for Gatland is he has been involved with three of the Home Nations and went with the Lions in 2009."
As the chairman, Davies is delighted to don his tie and jacket and attend or speak at the multitude of functions which coat-tail any Lions trip. That takes some of the pressure away from team management.
Gareth Charles commentates for BBC Radio Wales where his passion and knowledge spoils his rugby audience.
"Welsh guys can be insular," he said. "They like to be by themselves, it is just the way we are. When things happen the first reaction is to go to your mates; they go to the guys they know. However they are split up on this tour although not to the point of exclusion."
Warburton had roomed with Paul O'Connell while Evans and Roberts were both gregarious men who bridged some of the social spaces.
There had not been any rumbles about Wales domination of the group and then the test side. That reflected the intensity they brought to their Six Nations schedule and had carried into the tour.
Settling on either Warburton or O'Connell as captain was a massively difficult choice. It was felt that Warburton had the advantage in his rapport with referees; he communicated in a way which was not intrusive but got his point across.
Gatland and assistant Rob Howley knew him well, understood what he could do and how he played, they trusted him and he had played well, if not at his best.
"He fronts up on and off the field and guys respect him for that," said Charles. "He does not drink, he does not go out much and is just very focused on trying to win every test on tour."