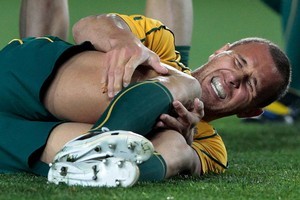 Quade Cooper's mum says the treatment her son got from New Zealand fans during the Rugby World Cup made her "embarrassed and ashamed to be a Kiwi".
Ruhia Jones said she decided to support France in the final after the Tokoroa-born Aussie first five was booed almost every time he touched the ball.
Ms Jones told Brisbane's Sunday Mail paper she made the decision after witnessing the abuse first-hand from the stands during Australia's semifinal loss to New Zealand at Eden Park.
"The impact of what Quade had been going through didn't really hit me until we got to the game," Ms Jones told the Mail.
"I was sitting there listening to people all around me saying horrible, awful things about my son. I was really, really upset. I was thinking 'Is this what he has been going through for five weeks?'. Before I heard it, I had just thought it was a bit of banter, but there was some very nasty stuff being said.
"I was embarrassed to be a Kiwi. And a bit ashamed that a lot of people in New Zealand couldn't separate the sport from the person. I was really hurt that my own (New Zealand) people were doing that to him. It hurt me because ultimately, Quade is a Kiwi, and he is just doing his job. It was unbelievable how deep the abuse went. And when you are a mum, you want to take all that hurt away.
"I've already told my brother-in-law, who is a Kiwi, that bugger it, I'll be going for France in the final."
Cooper had a disappointing tournament but Ms Jones was confident the 23-year-old would bounce back - and ignore the lure of a big-money league contract.
"I think he will stay in rugby ... I am sure he would not want to go out of the code this way. No way.
"Look out in the next four years, you are going to see a man to be reckoned with. He won't be a man that is just coming out of boyhood, he will be a matured man and an experienced man. He can use what has happened to him in New Zealand for good."
Cooper finally got a warm reaction from Kiwi fans who clapped him off Eden Park after he suffered a serious injury during Australia's victory over Wales in Friday's bronze final.
Ms Jones told the Mail she was proud of how Cooper handled himself up to that point.
"He doesn't really let too much get to him, but I really admire the fact that he didn't answer any of the abuse in a bad way," she said.
"He just told me that people were entitled to their opinions. He was very respectful to people, even people who were abusing him. But I do think that people should be more mindful that every sportsperson has got parents and people around them that love them very much."
Cooper's humility has been in evidence in the Twitter postings he has made throughout the tournament. That continued yesterday (Saturday) - despite the pain of Friday's injury.
"Thank you all for the support over the duration of the world cup. Been a learning experience to say the least," he wrote yesterday.
Then: "New challenge will be overcoming the Set back of injury. Things happen for a reason. Thank u all for your concerns and your msgs of support."
- APNZ