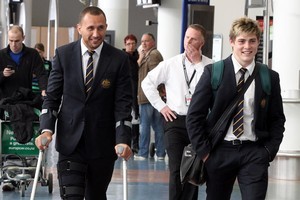 Quade Cooper limped on to a plane to Sydney yesterday afternoon with his head held high - despite suffering jeers and boos from New Zealand crowds at this Rugby World Cup and a career-threatening injury to his knee.
The 23-year-old lived in Auckland and Tokoroa before moving to Australia aged 14. He received a mixed reception during the Rugby World Cup.
The tournament ended with a final blow for Cooper when his knee hyper-extended during the Bronze Final on Friday night, causing a suspected tear to an anterior cruciate ligament.
Cooper said the night was a blur and adrenalin gave him the strength to hobble around the stadium after the match and greet fans.
"I can't really remember anything. It was sore but there were a lot of people who had come out to support and I just wanted to show them how much it meant to us."
The No 10 was on crutches and faces nine months of recovery.
"Now I've got a bit of time off, so I can come back and spend more time with my family," he said.
When asked if he had enjoyed playing in New Zealand, Cooper replied: "It's one I'll remember as a learning experience, just with how full-on it's been."
A Herald Online poll yesterday asked if New Zealand crowds had treated Cooper fairly. A third thought so - and 49 per cent thought not, while the rest didn't care.
Two schoolgirls were so horrified by the nastiness, they went to the airport to show him he was still loved.
Wearing homemade "Quade Brigade" T-shirts, Kristie Larsen and Steph Hogg, both 17, waited at Auckland Airport for two hours to meet the player.
The injury to Cooper and another to teammate Kurtley Beale also put a crimp in holiday plans with James O'Connor. Twitter posts yesterday showed they had to cancel because of the injuries.