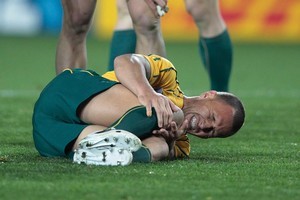 So that's all Quade Cooper had to do to win the hearts of a hostile crowd.
The Tokoroa-born first five-eighths, who has been the target of merciless taunting for the past seven weeks, looked to have done some serious damage to his right knee when he attempted one of the jump-steps coach Robbie Deans hoped would unlock the best defences at this Rugby World Cup.
Mocking laughter at a move gone wrong soon turned to the realisation that Cooper's difficult campaign had come to the sort of end you wouldn't wish on your worst Public Enemy No 1.
One or two boofheads still found it in their black hearts to boo, but the rest of the crowd applauded warmly as he left the field.
The shame of it was that Cooper, in that frenetic opening 20 minutes, finally looked like he was starting to stitch together a performance of real verve.
There were times when he had the ball on a string.
It was his outside-of-the-boot kick - the sort that would have gone out on the full during his miserable night last week - that set up the scrum that led to Australia's first try.
It was his delayed pass to Berrick Barnes that finished it.
Cooper wanted the ball at every opportunity.
Where halfback Will Genia had been the starting point for most of Australia's attack at this World Cup, here he was happy to be the conduit between the forwards and Cooper.
Perhaps Cooper felt freedom because it was a largely meaningless match. Perhaps he's always more suited to playing with another set of skilled hands outside him, a la Barnes, than the crash-and-bash of Pat McCabe.
Whatever the reason, it was good to see him regain some mojo.
It was a similar feeling to that that you get when a great batsman is touring your country.
You want to dismiss him cheaply, wrap up the series, then sit back and watch him score a double century in the dead-rubber just to remind yourself how good he can be. There was not much else in last night's match to get worked up about.
Wales, so impressive for large chunks of this tournament, played like a team that had spent the bulk of the past week breaking the shackles of a monastic past two months.
The hairshirts might have been removed, but they looked like they were playing in lead boots.
Australia?
Well they had their moments, but let's be honest - it's just not the same without Quade.