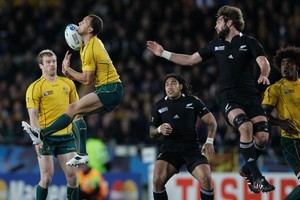 Wallabies coach Robbie Deans has defended his under-fire playmaker, praising the way Quade Cooper has handled himself in the face of "unwarranted" attacks.
Australia were yesterday left facing the unsatisfactory prospect of the bronze final after being outgunned 20-6 by the All Blacks.
Cooper's role in Australia's demise has come under scrutiny after he made several critical errors, including kicking out on the full to start the match.
Few of the talented first five-eighths' breathtaking skills have been to the fore this tournament. That has prompted speculation that his role of agent provocateur to Richie McCaw has distracted his focus and that his status as Public Enemy No 1 has got into his head.
Behind the bluff and bravado there is perhaps a fragile mind.
Deans downplayed that talk, but the lengths he went to defend the Tokoroa-born pivot suggests it has become an issue.
"I've been very impressed actually with the way he's carried himself because clearly a lot of the dialogue has been unwarranted," Deans said.
"It's easy for people who really have no knowledge of the man to take a potshot. I think the way he's carried himself has been impressive under the circumstances.
"It's easy to suggest that some of that comment has produced our outcomes, but it's just not that straightforward. I don't think it affected his performances at all, to be honest. The whole playing group has been under pressure, the whole playing group has made errors, but it's just the fact that his errors are attributed to a sideshow."
Cooper's baiting of McCaw, first in Hong Kong last year, then in Brisbane in August, has made him the most reviled sporting figure here since Greg Chappell. "There has been a lot made of something that's pretty small, really, when you look at it in the light of the whole game. And that's tough for a young man. Whether he's warranted all that is a bit of a moot point, really," Deans continued.
"The key thing for Quade is moving on. There's two ways he can go. You can absorb it, accept it for what it is, but maintain your focus on the things that are important and keep going. Or you can let it get the better of you and turn your toes up.
"I'd like to think he won't be doing the latter."
Cooper and his talented young teammates would be wise to duplicate the hunger shown by their opponents on Sunday.
The All Blacks' march to the final was forged in previous failures, said Deans, who coached the likes of McCaw, Dan Carter, Mils Muliaina, Ali Williams, Corey Flynn, Brad Thorn and Keven Mealamu in the 2003 campaign.
"What the All Blacks have is a group that have suffered on many occasions. The core of their group, the nucleus of their group, this is their third attempt and they've got that burning desire, that fire in the belly.
"They've also got that mental resilience. We don't have that as yet, to the same extent."
Australia are likely to make several changes to their squad for the third-place playoff, a repeat of the 1987 encounter with Wales.
The bodies might be banged up, but the mind will still be willing, said skipper James Horwill.
"It's a good thing we're playing so soon because of the fact that you can sit and dwell on these sort of things now. The fact that we, in four days' time, pull on the jersey and finish this tournament off on a positive note is the thing that's going to drive us.
"We want to finish this tournament on the right note and that will be by finishing third."
Coach blasted for keeping No10 on
Wallaby great Mark Ella has put the boot into coach Robbie Deans for sticking with Quade Cooper, pinning the blame on the No 10 for Australia missing out on the World Cup final.
Ella told Sky Sports radio he would have either dropped Cooper or put Berrick Barnes in the side to chaperone the erratic playmaker.
"We relied too much on Quade Cooper and it all fell in a heap."
The former Australian first five-eighths also said: "You've got to look at the coach and the way he is with the team.
"We needed players with experience but Deans is a coach that wants to go with all these young guys.
"That's been a problem all along. It's great to have young and exciting players but you need to have experience in the team somewhere."