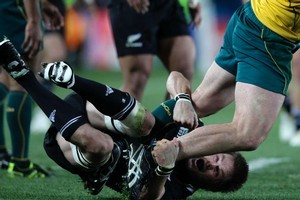 Every now and then the Wallabies pinch one, but not last night. Not when the All Blacks were on their sacred Eden Park turf, willed on by the bulk of the 60,087-strong crowd.
No one understood the hurt of the All Blacks more than those who fell last tournament in a shock Rugby World Cup quarter-final defeat to France.
Now men like Richie McCaw, Tony Woodcock and Ali Williams, who started that test, and Andrew Hore, who came on as a sub, are hunting for the World Cup against France on Sunday.
They are the men with the most painful memories of that ghastly day at Cardiff, but the rest of the cup squad also feel that pain. They have worn the angst, heard the speeches and done the hard yards to make this campaign far stronger.
So far, so good. The Wallabies' slip-up against Ireland pitted them against the All Blacks in last night's semifinal.
They were the last side to deal to the All Blacks in an absorbing duel several months back in Brisbane. That left a burn and a Kiwi anxiety that lingered and had to be quelled last night.
"They played with huge courage, led by Richie and everybody else who played," coach Graham Henry said.
"It was four years of planning, I suppose, four years of guys being frustrated and wanting to do the job, four years of trying to get things right."
There was a hunger and mental grit throughout the group.
Henry mentioned his captain and men like Brad Thorn, Keven Mealamu, Conrad Smith and Hore who had been core figures for a number of years.
"They have got a deep-down desire in the gut to do the business and were strong upstairs too," Henry said.
The All Blacks had played a little more conservatively than usual in an approach that was tailored to the Wallabies and pressures of a World Cup elimination semifinal.
"I thought the guys' character was superb tonight and you can't ask for more than that. The defence was quite outstanding, so it is a good feel but the job is not done."
Ma'a Nonu had complained of a sore neck and Piri Weepu looked a little woozy but both were fine.
McCaw lauded his tight five, who put the initial squeeze on the Wallabies which the rest of the side built on.
"The big guys set the tone. We were disciplined and did not get ourselves in positions where we gave away penalties, and we got rewarded. When it counted, the big scrums changed momentum too," McCaw said.
Packing down for the last scrum, McCaw said, Will Genia had given him a 'well done' salute and the All Blacks captain knew it was job done.