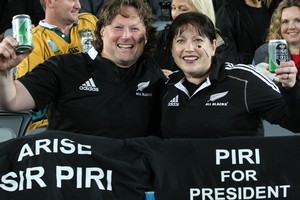 One game to go. Graham Henry's All Blacks must put last night's victory behind them this morning, hard as that will be. For the semifinal has seemed the bigger hurdle from the moment the draw was announced. Had results followed the form book, the All Blacks would have faced South Africa last night and met Australia in the final this Sunday.
Their path became a little easier when Ireland upset Australia and their Tri-Nations rivals clashed in a quarter- final.
The Wallabies were lucky to win last weekend and the effort it required from them could not be repeated last night.
If the All Blacks need a reminder that sudden death matches do not respect the form book, the fate of Australia and South Africa supplies it. Any team good enough to reach a World Cup final is capable of an upset on the day. France will be hungry. They have never won the cup.
They know the All Blacks might beat them nine times out of 10 but to win the cup they have only to win once.
They also know the terrible weight of expectations these All Blacks carry. Five times in succession previous teams have failed to bring home rugby's supreme prize. This team has the advantage of playing at home for the first time since New Zealand last won the cup.
The country's joy and enthusiasm at hosting the event has probably added to the team's burden. All over the country banners and flags have welcomed the teams but one banner and one message has predominated everywhere. It is black with a fern and says, Go All Blacks.
To succeed where five teams previously have failed, Henry's All Blacks have had one motto: take it one game at a time. Henry fears his failure four years ago may have happened because their heads were on the next game.
It is the pitfall of favourites in any tournament. Now they need not worry on that score. There are no more games after this one. Win one more and they will be celebrated for the rest of their lives. Lose it, and they will be just another side that did not quite reach the summit. Win, and Henry will have vindicated himself, his assistants and the Rugby Union that had the courage and foresight to reappoint him. Lose this last game and critics of his reappointment will be thunderous in their vengeance.
Henry's record of 87 wins out of 102 tests in charge of the All Blacks should speak for itself but those 87 will count for nothing in the public mind if he cannot record an 88th. Such are the demands of a national game. This is almost certainly the final week in his long reign as coach, and the final week of a long campaign for those of his senior players who have survived injury along the way. Captain Richie McCaw appears not to be the only one fighting injury in their run to the final.
They are probably in more pain than they have let selectors know.
With a special effort on Sunday they cannot just win but win spectacularly well. At their best Henry's All Blacks have produced rugby of surpassing pace, precision and power. He strives constantly to produce a better game. He has never seemed content that he has found the perfect combination and, to the consternation of critics, he has continued to juggle players in some positions well into this World Cup.
A World Cup is a defining event for rugby every four years. The style that wins becomes respected as the benchmark. Happily all teams that survived the quarter-finals this time were playing a style deserving of respect. And the better of them have come through this weekend.
Eden Park is set for a finale that should live up to New Zealand's experience of the past six weeks.
The warmth and pleasure the country has found in hosting an event of this scale might exceed whatever happens on Sunday. But the team will be preparing this week to put the icing on that cake.