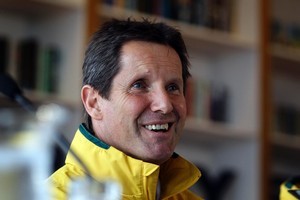 There was an emphatic "no" from Steve Hansen. But there would be. The All Black assistant coach made it clear he felt there was no extra edge in today's Rugby Wold Cup semifinal as a result of the unsuccessful challenge Wallaby coach Robbie Deans made for the All Black job at the end of 2007.
"It might be for Robbie but it's not for us," reckoned Hansen. What else could Hansen say? He could hardly admit the truth that this game carries enormous significance as a result of Deans being rejected as he was.
He couldn't really get into the personal animosity he and Deans feel for each other. Hansen couldn't get into the fact that his own ambition of being the next All Black coach is linked to the outcome of tonight's game.
This is the stuff of Hollywood - proud former All Black rejected by the team he really wants to coach, storms off to the arch enemy and guides them to a semifinal against New Zealand in New Zealand. The drama could hardly be greater.
The significance of the decision made by the New Zealand Rugby Union board on December 7, 2007 has never been greater.
That decision will come under the most intense scrutiny if the Wallabies win and, like it or not, there will be a public backlash in the wake of yet another World Cup failure. Like it or not, there will be direct lines drawn back to 2007 and conclusions reached that the NZRU backed the wrong man.
The inescapable truth for any All Black coach is that they are ultimately judged by what happens at the Rugby World Cup. For Graham Henry, it won't matter that in the 14 previous tests since Deans has been coach of the Wallabies, the All Blacks have won 11; it won't matter that they put together a record run of 10 consecutive victories.
Henry's reappointment was all about redemption. It was always heading to this point - where he needed to secure the World Cup to fully justify his second term in office. If it all comes to an end at the hands of Deans, it will be hard for the NZRU to convince everyone they still made the right choice with Henry.
The All Blacks have won 83 per cent of their tests during the second reign of Henry. The Wallabies have won 59 per cent of their tests under Deans. Australia have lost to Scotland, Samoa and Ireland under Deans as well as three times to England.
No question Deans has assembled the most deadly backline in world rugby and made the Wallabies occasionally lethal. But it is only occasionally and there have been periods, most notably the end of 2009, when there were serious questions being asked whether Deans should keep his job.
Anyone tempted to jump on the Deans' bandwagon tonight might want to be cautious.
His time with Australia has not necessarily been the golden period it will no doubt be portrayed as should the Wallabies reach the final. To extrapolate any theory that Deans would have been the better choice for the All Black job four years ago based on tonight's outcome would perhaps be a case of not letting the facts get in the way of a good story.
Deans would unquestionably have been a good All Black coach. Would he have been more successful than Henry? Would he have achieved an 83 per cent win ratio; taking out two Grand Slams and two Tri Nations titles?
These are serious achievements and lest anyone forget, when Deans stood for the job he proposed working with Pat Lam - who at that stage hadn't even coached at Super Rugby level.
"He's a good coach ... a good man," said Henry of Deans when he too was asked about the significance of their rivalry. "But it's not personal. It could be Mrs Gillard [Australian Prime Minister] coaching [the Wallabies] you know. It's one team playing another team in a game of sport."