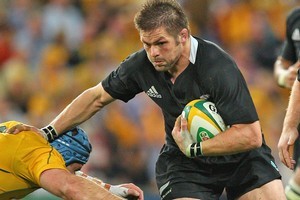 Rugby greats predict tonight's World Cup semifinal between the All Blacks and the Wallabies.
Will the All Blacks beat the Wallabies at a World Cup for the first time and reach their first final since 1995 or will Australia earn their first victory at Eden Park since 1986?
Former All Blacks and Wallabies share their thoughts and predictions:
Tana Umaga (Former All Black)
Pick to win: All Blacks
The All Blacks have the physical artillery to take this semifinal. Throughout the tournament I have been impressed with Jerome Kaino and now Kieran Read is starting to come back into form and with the front row getting their scrummaging, ball-carrying and cleanouts in order, that is great cause for optimism.
Brad Thorn and Sam Whitelock bring stacks of courage and energy into their work and they attack the game hard all the time.
They will all need that mindset going into this test to get on top physically and dominate.
Buck Shelford (Former All Black)
Pick to win: All Blacks
The All Blacks are good enough to win Sunday's semifinal against Australia, especially if they have the belief and start with a hiss and a roar.
But I'm not going to ooze confidence for the sake of it - this is the sharp end of the World Cup and we have to be realistic, which means accepting a few worrying signs in the camp.
This is the moment for the All Black forwards to put it all on the line; to leave everything they have on the field. They can't afford to allow Australia a head start.
Nick Farr-Jones (Former Wallaby)
Pick to win: Australia
I'm not saying Dan Carter is irreplaceable but he leaves a big void and it's how the All Blacks adjust.
The All Blacks have to dominate up front to give Cruden space and to Weepu the chance to put pressure Genia who is a key player this week. Genia was great against South Africa in defence but now he has to step up in attack.
He's got to use all the opportunities he gets with ball in hand. When the loosies are covering for Cruden there could be gaps in close and Genia will know that. If the Wallabies' forwards do their stuff they have a wonderful opportunity in the backs to win this game.
Watch Nick's latest video preview
Inga Tuigamala (Former All Black)
Pick to win: All Blacks
I've seen enough maturing on the field from our players to know that we will win this match. They have leaders all around the paddock even with Dan Carter out of the match.
Our side is well balanced with threats upfront and out-wide. Last weekend against Argentina we showed that we could be tough and patient in building for a win.
I'm pleased Aaron Cruden is in the first-five position. He has come through the ranks very well with a brilliant passing game and he's fearless in the way he attacks the line.
Ewen McKenzie (Former Wallaby)
Pick to win: Australia
It has the same feel to me as 1991. There was a tight game for us in the quarter-final which we just snuck through [against Ireland, when Australia won in the final minute].
New Zealand have always been under pressure, they have a very proud record [especially against Australia at Eden Park].
But they don't win every game. OK it's Auckland and Eden Park but it's still a footie field, it's still got grass in a rectangle. The environment you put to one side. So it's well set up.
Read more on Ewen's thoughts of tonight's clash
Eric Rush (Former All Black)
Pick to win: All Blacks
After a hiding upfront from the Wallabies in Brisbane it would've hurt the forwards and definitely shot their pride; which is a good thing for us.
Our forwards got bashed last time they met and it won't happen again.
Also being played at Eden Park and the enormity of the occasion I know our forwards to do the job upfront and our backline will work off that advantage.
David Pocock and Richie McCaw both do different jobs. Richie does the majority of our defensive work and so may not get as many steals. On the other-hand Pocock is more of a fetcher, choosing not to commit to as many tackles so he can arrive second at the breakdown to pick up the plums.
Josh Kronfeld (Former All Black)
Pick to win: All Blacks
We have taken a lot of hits (injuries) lately however we have enough of the nucleus of our team to put together a good performance.
Aaron Cruden has enough pedigree to do the job for us at this level and after two years away from the All Blacks, which is a lifetime, he will step up to the plate.
They haven't looked as dangerous as we thought they would coming into this tournament only scraping through in some matches.

Pocock is the kingpin. Whenever he plays the Wallabies perform very well so he's a major ingredient to Australia's success.
Matt Dunning (Former Wallaby)
Pick to win: Australia
The former prop told the Sydney Morning Herald: "If Cruden plays as badly as he played as badly as he did against the Wallabies in that test at Homebush, I think he got dropped pretty much after that, the Wallabies have very chance to win. If we close with about 10-15 to go I think the All Blacks will really start to choke".
"We can't afford to let the All Blacks get ahead and get comfortable. We have to play a game to limit the All Blacks opportunities and keep the game tight all the way like we did against the Springboks."
Jeremy Guscott (Former England international)
Pick to win: All Blacks
The former England centre told the BBC that the match will be an "explosive encounter".
"Australia have to have the psychological edge because they won the last time the two sides met in the Tri-Nations, but New Zealand have not lost at Eden Park since 1994 so I am going to pick the All Blacks to edge it and reach their first final since, amazingly, 1995," he said.
Norm Hewitt (Former All Black)
Pick to win: All Blacks
We have it up on them at Eden Park with a long unbeaten record there but this is a Rugby World Cup so what's happened before counts for nothing on the day.
We have a better front-row and if we put the shove on them and they struggle to deal with it - it's an area we can definitely manipulate.
Piri Weepu is a key player for our team more than ever and his performance last weekend epitomised his importance and maturing of his ability.
Also if Hosea Gear plays we can win by even bigger margin as his finishing ability is outstanding.
Chris Rattue (Herald columnist)
Pick to win: Australia
The All Blacks have lost Carter, Cruden is a really good footballer and I think they've struck it lucky with Slade going down. He looked like he was scared but Cruden looks like it might enjoy it. But around the forwards they have McCaw and Read who aren't in top condition and I don't think other players are committed to the breakdown anymore.
The Aussies are just going to fly into that breakdown, they're just going to rip into there at every single opportunity and it could go horribly wrong for the All Blacks.
Dylan Cleaver (Herald rugby writer)
Pick to win: All Blacks
It's at Eden Park, they've had Australia's number for four years now. I think the All Blacks win in a very narrow game. I think 80 good minutes wins this World Cup and they have that in them to beat Australia.
- HERALD ONLINE