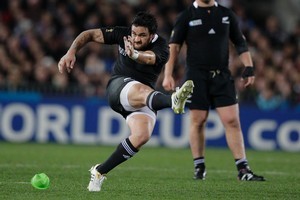 This World Cup has been great, the atmosphere, celebration and many of the matches have been a treat.
Crowds have been terrific, stadiums have been running at about 90 per cent capacity and there has been a raucously carnival character about most matches. All Black victories help that mood and there will be a serious amount of hope and prayer that continues if the men in black come second tomorrow.
But the kickoff times in the playoffs are an abomination and from this weekend are pushing out an extra half an hour to 9pm.
The rationale? Apparently it was to accommodate those poor sleep-deprived rugby aficionados in Europe who need to wake up, hear the morning news bulletins, take the dog out for its whoopsie, digest the sporting pages in their newspaper over their morning cereal and toast before switching on the television.
In Britain and Ireland, both semifinals will kick off at 9am while in Paris and Rome it will be an even more leisurely 10am.
Meanwhile, those who've shelled out the big bucks to help furnish the International Rugby Board's coffers for the global development of the game have to wait until three hours before midnight for twin kickoffs at Eden Park this weekend.
Once referee Craig Joubert blows the end to the semifinal it will be getting close to 10.45pm, unless there are further periods of sudden-death to decide the contest. When a winner is sorted, there will be the inevitable celebrations and commiserations.
Spectators will not be shuffling out of Eden Park until the hour before midnight. Meanwhile in Europe, Cyril Ditherrellim and Didier Dudidovoir will scrape their chairs back, douse the telly and march off to start their morning chores. Terrific. No wonder they throw their support behind the IRB.
You'd think anyone remotely interested in rugby in the Northern Hemisphere would be more than happy to get up from 7am onwards on their weekend to watch the semfinals and final of the World Cup. That cannot be too arduous even for those who have been to the rubbideedub until all hours the previous night.
Then matches Downunder could be held at a civilised time like 7.30pm with plenty of leeway for any extra-time that might be needed, for spectators to move on and chew over events in bars and restaurants, and for staff to clean and sort the stadium.
Something for the alickadoos to ponder as they while away their final week on the generous IRB per diems.