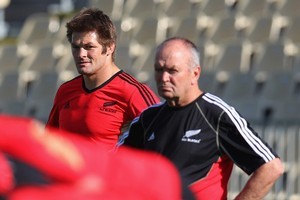 As Sunday's World Cup semifinal comes ever closer, attention will inevitably focus on the rivalry of the two coaches, New Zealanders Graham Henry and Robbie Deans, but there is someone else in the Australia camp who as an intimate knowledge of the game here and he spoke today of the mounting pressure on the home team.
David Nucifora, Australia's coaching co-ordinator, spent three years in charge of the Blues after joining the Super Rugby franchise as a technical adviser in 2005.
His tenure meant he was based in Auckland during the All Blacks 2007 quarter-final exit in Cardiff and he said the public's response was educational.
"It was pretty glum,'' Nucifora said. "It means a heck of a lot to New Zealanders, the game of rugby. I think that just puts a lot of pressure on their team. The players know and understand the expectation that sits on their shoulders to win the World Cup and how that deal with that will be really important because you only have to walk the streets, it's everywhere around you at the moment.
The pressure is mounting, the expectation is there, it's been a long time. People want to win it, it means a heck of a lot to them. It's going to be interesting to see how they respond to that.''
Asked about specifics of the reaction to the 2007 defeat to France, Nucifora replied: "I don't think I went outside for a while. People were disappointed, that's to be expected.You know...it was glum, it was glum.
"It's a massive game and how players deal with pressure during the game will go a long way in dictating what the outcome will be. If there is scoreboard pressure on the New Zealanders it will make it interesting to see how they hold it together.''
Nucifora said that didn't necessarily make things easier for the Wallabies at Eden Park. He said his side still had to play to their potential but his response in how the Australians should handle the pressure can equally apply to the All Blacks.
"A lot of our work in preparation for games is dealing with situations. You work hard at that. If their preparation has been through over a long period time. You focus on tasks, what has to be done next. That's the only way you can deal with it. If you let your mind wander any further than that you're going to be affected by all the peripheral things.''
The All Blacks camp are unlikely to care a jot about Nucifora's comments about expectation. While they hold truth, they were also designed to pour more pressure on.
One thing definitely in the All Blacks favour is the increasing doubt over the availability of fullback Kurtley Beale, who has a hamstring strain. Beale has not trained at all this week and Nucifora said the coaches would discuss the player's condition with the medical staff before making a decision and naming the team at lunchtime on Friday.
There is also a question mark over prop Sekope Kepu, who has a sprained ankle.
- APNZ