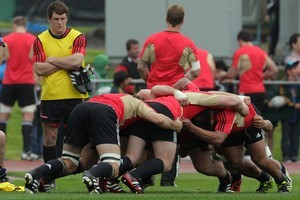 The appearance of specialist openside flanker Matt Todd at All Black training has inflamed theories about the World Cup welfare of damaged captain Richie McCaw.
It provoked hours of explanation, dialogue and frustration between All Black officials and the fourth estate after Todd and several other provincial players joined in the practice at Trusts Stadium in Henderson.
When the media was allowed in for the final 15 minutes of the training, McCaw, wearing track shoes, eased himself away from the session, as Todd chipped in with advice and help near some scrum training.
Todd, it was explained, was part of the wider All Black training group and up from Christchurch on holiday. That was the official line but it did not quite explain why he had his rugby gear with him and headed from the airport to the training in West Auckland.
The All Blacks had used a number of others in their opposed training sessions at other venues in Hamilton, Wellington and Christchurch during the tournament.
"Usually we get some players in for the first session of the week which is usually one based on defence," a spokesman said. "Todd was helping with opposition training and might come in again later in the week."
Todd's appearance, McCaw's ongoing injury and uncertainty about Adam Thomson's fitness for Sunday's semifinal against the Wallabies, have created an incessant flow of conjecture about All Black selections and McCaw's ongoing problems.
His discomfort has surfaced intermittently in public since his February operation to repair the fifth metatarsal on his right foot. No one seems to have a detailed explanation about why the injury has taken so long to settle, what the cause of the continued pain is or what the solution is. The only account is that McCaw has a sore foot.
Meanwhile the nation frets about McCaw's confrontation with Wallaby whizz David Pocock at Eden Park on Sunday. That angst and the skipper's injury has raised the national anxiety and interest levels.
McCaw and the All Blacks maintain that the skipper will play on Sunday. Nothing had changed, he would play, the messengers said yesterday.
The injury has frustrated McCaw and the ongoing media inspection has irritated him even further after the injury-enforced exit of champion five- eighths Daniel Carter. But those details and Todd's arrival from out of town, instead of calling in a local flanker, have added extra spice to the speculation.
Tournament rules allow a replacement to play 48 hours after being called into a squad. So both Stephen Donald and Hosea Gear are now eligible to start after replacing Colin Slade and Mils Muliaina this week.
Had there been more doubt about the health of McCaw and Thomson, then Todd could have been drafted into the squad, instead of Gear, as an insurance pick for the loose forwards.
McCaw has played international rugby for a decade, he has dealt with injuries and learned to play with them. His courage and competitive instincts allow him to compete when others would withdraw, when his body is near-spent, his mind urges him on.
Senior loose forward Jerome Kaino acknowledged the extra work they were doing at training in McCaw's absence.
"It's not too bad with Richie not taking too much involvement in training," he said. "We know each other, we know our game and if Richie sits out, we have guys like Victor and Thommo who can slot straight in and do that quite well."
Vito said the skipper was looking after himself, everyone was doing their best to get him back on the field while the team had been working on ways to deal with the threat from Pocock.
"As a loose forward, [Pocock] is always going to push the boundaries in terms of the law and if he gets away with it good on him. But at the end of the day, I think he is one player and when it comes to the physicality at ruck time we are going to have to do our business there in numbers one to 22."