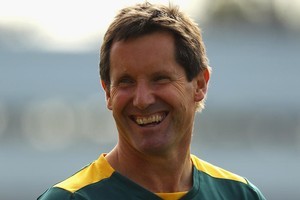 Triumphant Wallaby coach Robbie Deans paid tribute to his young side's courage under fire as they advanced to the Rugby World Cup semifinals at the expense of the world champions.
South Africa had all the experience, most of the ball and all the territory, but they also have the early flight home.
"What you just saw was the most experienced World Cup side in the world really turning the screws on the youngest," Deans said. "The boys came of age in terms of the way they accepted that challenge and stood up to it."
Deans paid particular tribute to James O'Connor, who stepped up to kick the winning penalty from 40m. It was his work when Australia didn't have the ball, which was nearly always, that most impressed his coach.
"He showed a lot of courage defensively in his tackling and he also showed a lot of courage in the air. A lot of South Africa's approach was targeted at him. He not only stood up to it, he also had the last say.
"The encouraging thing was he wanted that. He was looking forward to that opportunity to kick that goal. It's a great sign, a great trait."
O'Connor was just one of many Wallaby standouts on defence. They had to make three tackles to every one the Springboks made, so it was little surprise that they looked dead on their feet at the end of the 80 minutes.
"Not everything went our way tonight and we put ourselves under a lot of pressure, but one thing you can't teach and can't train is effort and commitment from the group," captain James Horwill said. "Every member of our team showed a hell of a lot of both of those."