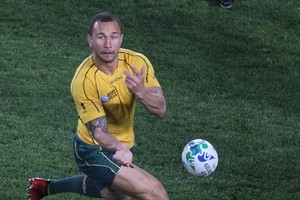 Multiplying the immense Rugby World Cup pressure on Quade Cooper, South Africa's intercept kings Bryan Habana and Jean de Villiers are lying in wait for an errant cut-out pass at the Cake Tin.
The enigmatic Wallabies playmaker has already thrown three failed cut-out passes in the tournament and another Cooper blooper could sink Australia in tonight's sudden-death quarter-final.
Cooper's flat, wide passing is one of the best features of his highly-skilled and exciting attacking game but there can often be just inches between a try at one end or the other.
One play has the potential to win or lose what shapes to be a tight affair between the sides.
Wallabies coach Robbie Deans will no doubt hope Cooper takes a safety-first approach for most of the quarter-final but he still has the liberty to take attacking opportunities when they arise.
Springbok centre de Villiers, desperate to end his own terrible personal World Cup history, admitted he was ready to snatch any errant Cooper passes out of the air.
But he also knows a poor defensive read has the potential to kill the Springboks.
"If it comes off, it's fantastic but if you miss it, it can be a disaster," de Villiers said.
"I don't think it's something that you should look for. If you do that, you usually get it wrong. It's something that has to happen instinctively."
De Villiers has played 71 tests over the past 10 seasons for South Africa but only finished his first World Cup game in their last pool match against Samoa.
He missed the 2003 tournament through injury in a warm-up match and was sent home in 2007 after injuring himself early in the Springboks campaign.
- AAP