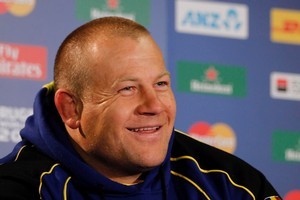 Maka's eye on French
Tongan captain Finau Maka said the French team fielded against the All Blacks in the Rugby World Cup were not their strongest side. "From my point of view, just because I've played with about eight players in the French team - actually I think it's more like 10, and I know them all personally - I don't think that was their best team against the All Blacks. So you can't read too much into that." He said the Tongans' knowledge of France would help them in their final pool match. "Maybe a little bit of an advantage. We know the style that they play and I think that will help us."
Tonga v France:
Wellington, 6pm, Saturday
Wallaby injury worries
Wallaby hooker Tatafu Polota-Nau said his side were worried about the number of injuries they had suffered. "They are vital players in key positions. Hopefully it is a speed bump and they can get back on the paddock as soon as possible." The Wallabies are relaxing at Hanmer Springs before the match against Russia.
"Sometimes you can get too much [rugby] and you get sick of it and all you think is rugby. ... You need, like Robbie [Deans] says, to get some balance and get away from it and hopefully come training time you are mentally refreshed."
Australia v Russia:
Nelson, 3.30pm, Saturday
In a happy place
Romania coach Romeo Gontineac says his team are focused on their final pool match against Georgia. "We play them all the time, so it is our final. We play every year. We win, we lose, it is our level. England, we never expected to win. Georgia is our level. It is our priority." Romanian captain Marius Tincu said after the 67-3 defeat that matching England was tough for a smaller team. " England are a very big team and it was hard for us. They are professionals. We play rugby for happiness and for family and I'm very happy tonight and now I look forward to playing Georgia."
Romania v Georgia:
Palmerston North, 7.30pm, Wednesday
Thinking positively
Namibian captain Jacques Burger said his side would take a positive approach into tonight's match against Wales. "We're definitely going out with a positive outlook. We're going out to try to win. Even if it sounds impossible, we have to go out and try to win. We have to play rugby like a winning side. That means less mistakes, sort out first phase ball and keep the ball in hand." He said gaining possession would be crucial. "If you play against top sides and you don't have a lot of ball they're going to score a lot of points against you and that's what the Springboks did [against Namibia] last week." Coach Johan Diergaardt said Namibia had to minimise mistakes. "We need to concentrate for 80 minutes. We cannot play just for 60 minutes and allow seven tries in the last 20 minutes [as against South Africa]."
Namibia v Wales:
New Plymouth, 7.30 tonight