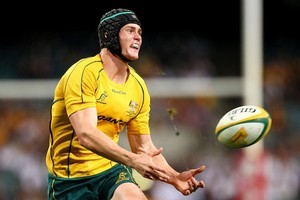 He is one of the forgotten men of the Wallabies - who could yet play a pivotal role in their Rugby World Cup campaign.
Berrick Barnes hasn't played a test in almost a year; kept out first by the emergence of Quade Cooper, then for health reasons as he missed the latter part of the Super Rugby season after a series of head knocks.
At the last World Cup, Barnes was the first choice No 10, then moved to second five under Robbie Deans - scoring the first try of the Deans era and often playing in tandem with Matt Giteau. Giteau has gone, apparently for his unsettling effect in the dressing room, but Deans showed faith in Barnes.
"He has given a few people - myself included - a second chance," says Barnes. "I've been in the wilderness for a while and now I'm back. I'd love to play but Robbie keeps his cards pretty close to his chest."
Barnes could yet be crucial. If Cooper loses form or gets injured, Barnes is the only logical back-up. He doesn't possess the quicksilver speed and outrageous flair of Cooper but has excellent distribution, is no slouch and has the more assured kicking game.
Pat McCabe brings solidity to the Wallabies midfield with the rocket-heeled around him. McCabe will likely be employed against teams like the All Blacks who attack that inside channel but Barnes, whose last test was the 56-10 November roasting of France in Paris, may feature against less physical teams.
"I think I can complement Cooper but Pat McCabe has taken his chance and is going great. All I can do is keep the other guys honest at training and be ready to step in when required."
One of the few veterans of 2007, Barnes likes what he sees in the current line-up: "We came into this tournament with a fair bit of momentum and confidence; it hasn't always been the way in the past," says Barnes. "Complacency has been our biggest issue over the last few years and stringing wins together consecutively but hopefully now we are on the right path. We are a bit more mature now and even the young blokes have played 30 or so tests now."
At 25, Barnes is far from ancient but this Wallabies team has a core of youth; Cooper, Will Genia, James Horwill, James O'Connor, David Pocock and Digby Ioane among others.
"The culture of the team has been driven by the young blokes," says Barnes. "I think it makes the older blokes feel younger and guys like Rocky [Elsom], Dan Vickerman, Adam Ashley-Cooper and Drew Mitchell have been invaluable and are needed to rein in the exuberance sometimes."
There is a definite swagger to this Wallaby side - but can they back it up? Are they too young?
"We will find out, won't we?" says Barnes. "Just like we will find out if the All Blacks are too old. Often older teams have won World Cups but that 1995 South African team had hardly anyone with huge international experience."
With players such as Cooper and O'Connor making headlines with their social media exploits, and high profile fans like Miranda Kerr and Orlando Bloom, this Australian team has attracted plenty of attention off the field.
"At the end of the day, the off-field stuff doesn't matter," says Barnes. "The Chicago Bulls won six titles with Denis Rodman, Scottie Pippen and Michael Jordan all doing their thing- while the Lakers have found success with very high profiles. At the end of the day, I don't have to like you to work with you - I just have to respect you.
"If these boys are doing the work in training, strategy and other team sessions, then I couldn't care less what they are tweeting or doing off the field. Guys like Quade and James work bloody hard - sure they have got a bit of a swagger and strut about them - but if you back it up, you can carry it."
At the fulcrum of the Wallaby campaign is Deans. Barnes describes the coach as ultra-competitive - "whether it is eating your meal first or a game of touch at training, he likes to win and that rubs off on the group" - who has an infectious personality.
"He has true belief in whatever he is doing and you can't help but get infected by that.
"He also looks for an edge anywhere he can find it; a lot of other coaches will stick to their tried and true formula but Robbie will adapt and use what it is at his disposal."
Barnes has been surprised at the level of vitriol sometimes directed at the All Blacks: "I can't believe how much one loss [in Brisbane] can turn public opinion," says Barnes. "You get so nervous about little things; you were five points off and also had two of your key forwards go down early in the game."