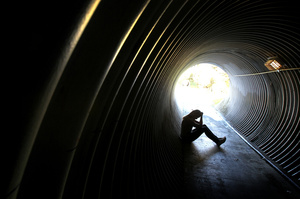 The rural sector has banded together to address depression in the farming community in the form of the Farmer Mental Wellness Stakeholder Group.
The group, set up by Federated Farmers and Dairy Women's Network, hopes to see a reduction in farmer suicides and improved mental health services for farmers.
Recent Ministry of Health data shows a significantly higher risk of suicide in rural areas than in urban areas.
The suicide rate for people living in rural areas is 16 per 100,000 people compared to 11.2 per 100,000 people in urban areas. The highest number of rural suicides is seen in the 25-44 age bracket, with men showing significantly higher rates than females.
Chief Coroner Judge Neil McLean recently revealed that 541 New Zealanders took their own lives last year, with an alarming number of these people farmers.
The stakeholder group hopes to see improved data on depression in the farming sector.
At present most information on why farmers become depressed is anecdotal. There is much speculation that financial issues and pressure from the banks result in depression amongst farmers. In most cases it is an accumulation of factors.
Rural communities have disintegrated over time so social support networks have declined.
Previously farmers participated in discussion groups, however these groups are declining due to the emergence of online social forums such as Facebook, mobile phones and email. Farmers are increasingly isolated and burnout is also an issue.
By working with the other major rural sector groups, the Federation hopes to help farmers experiencing depression.