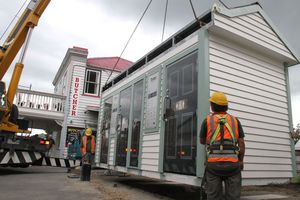 A minor show came to Greytown on Tuesday evening.
Previously, I had wondered where the public toilets between the butchers and the St John's Memorial Hall had got to.
I looked across as I helped my wife unload her gear for the Saturday market and discovered the stucco-faced loos wiped from existence.
But on Tuesday, to the delight of several small children, a hefty transportable crane hoisted a brand new, tourist-friendly set of loos into place.
I say "tourist-friendly" because I had heard talk the new loos were more in keeping with Greytown's image as a boutique Main Street for art, French antiques and designer fashion.
It seems a mildly historic set of toilets, pebble-dashed and thickly painted, just wasn't going to cut it any more.
Sometimes the sudden removal of a building can prompt cries about a heavy-handed council that fails to consult properly with its ratepayers.
It could be argued the toilets were a fine example of period architecture and placed with the blessing of a past community.
And then there's the unblinkered view; the toilets look just like those ones in near derelict towns like Mangaweka or Kaikohe, or at a caravan park, and all that's missing is the shiny toilet paper.
It reminds me of the story I did on the eels dying in the sewage at Homebush, which drew minimal reaction.
At the end of the day, it's a fish in foul-smelling sludge.
Even Greenpeace would draw the line.
Towns like Otaki and Taihape flashed up their toilets purely for the tourist trade and damn right they should.
In the end, Greytown's on a good thing with its shopping trade. The council doesn't have to ask forgiveness for giving us a building that measures up.
Good work, I say.
For more articles from this region, go to Wairarapa Times-Age